Our pre-race preview is back with the Hungarian Grand Prix, the eleventh round of the 2021 season which will take place this afternoon at the Hungaroring in Mogyoród. We will analyze all the possible strategies thanks to the data provided by Pirelli and all the variables that could come into play during another race that promises to be very tactical and exciting, with the strong unknown of the weather.
Starting grid (Top-10) and tires mounted at the start
1st Row
1. Lewis Hamilton

(M)


Mercedes
2. Valtteri Bottas

(M)


Mercedes
2nd Row
3. Max Verstappen

(S)


Red Bull
4. Sergio Perez

(S)


Red Bull
3rd Row
5. Pierre Gasly

(S)


AlphaTauri
6. Lando Norris

(S)


McLaren
4th Row
7. Charles Leclerc

(S)


Ferrari
8. Esteban Ocon

(S)


Alpine
5th Row
9. Fernando Alonso

(S)


Alpine
10. Sebastian Vettel

(S)


Aston Martin
Difference between compounds and longer stints (Pirelli data)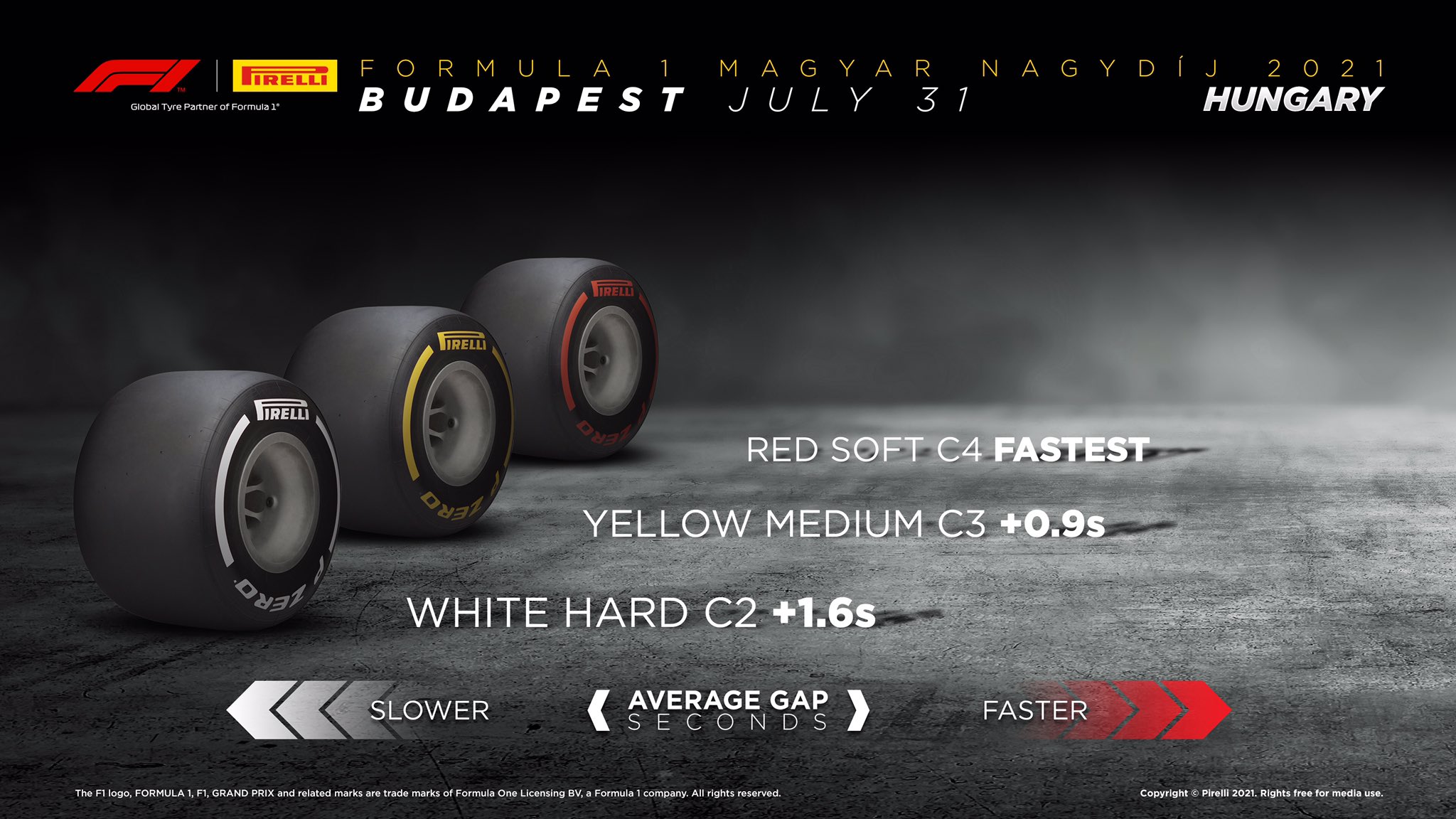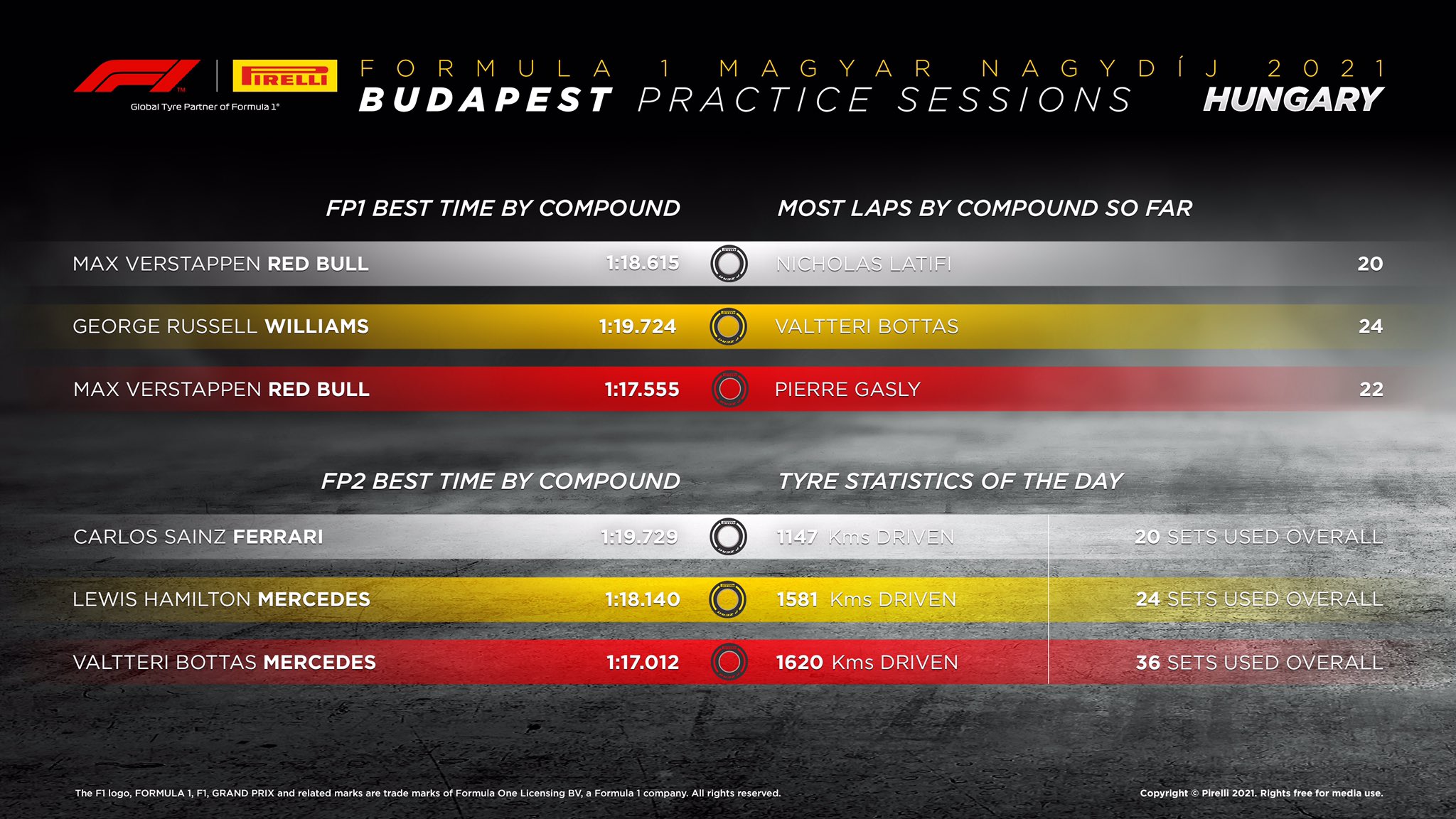 Best strategies in the 70s laps of the Hungarian GP (Pirelli data)
The 70 laps of the Hungarian Grand Prix keep both the one-stop and two-stop strategy in play, both being valid for the race, even if the double-stop strategy should be the fastest on paper. Much will depend on two factors: tires you start with and temperatures. Those who start with the Soft might prefer a two-stop strategy, with several options that include switching to Medium for the last two stints or perhaps even a final run on Soft, especially if there was a chance to get an extra point. with a view to the championship for the fastest lap of the race. The use of all three compounds is another viable possibility.
However, given the well-known difficulty of overtaking at the Hungaroring, the position on the track is crucial; therefore this could push several drivers to prefer a single stop. Those who start with the Medium can certainly make this choice fruitful by switching to Hard for the rest of the race; but it is also possible to switch from Soft to Hard, although this option is slower.
Time will likely be the deciding factor. So far there have been record temperatures on the track and the expected rain hasn't materialized substantially.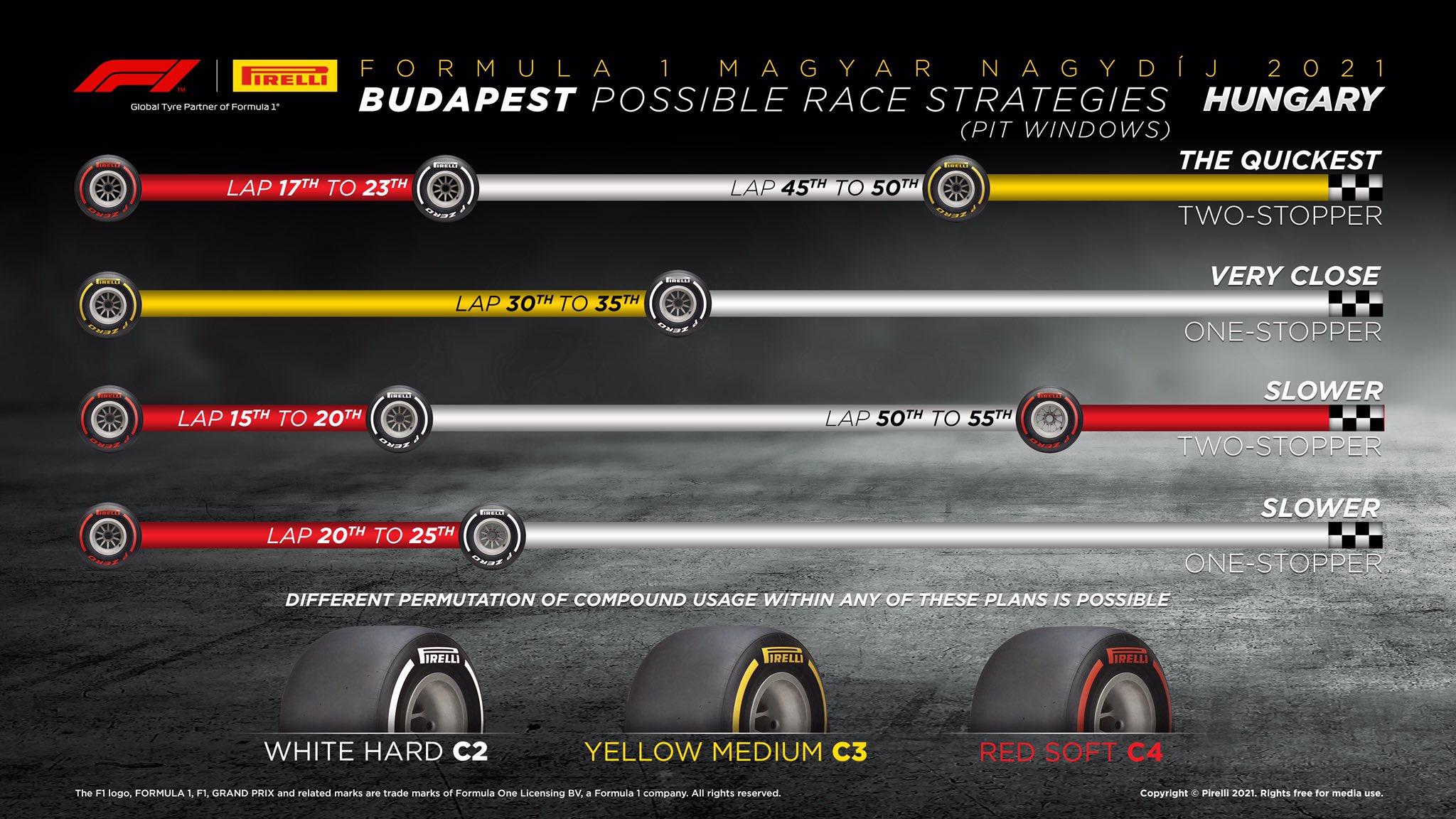 "The track temperatures in qualifying were just a little lower than on Friday. Consequently, although the Soft compound retained a significant speed advantage of nearly a second per lap, carefully preparing the sprint lap was crucial to avoid overheating. – he has declared Mario Isola, Car Racing Manager of Pirelli – Riders starting on Medium have more flexibility, which could give them an advantage, but the two-stop strategy is slightly faster on paper so those who start with the softer compound will have every chance to try something different. given the many possible strategies. Mercedes and Red Bull have taken a very different approach, so it will be fascinating to see how this battle unfolds between the first and second row of the grid ".
Set available for the race (Pirelli data)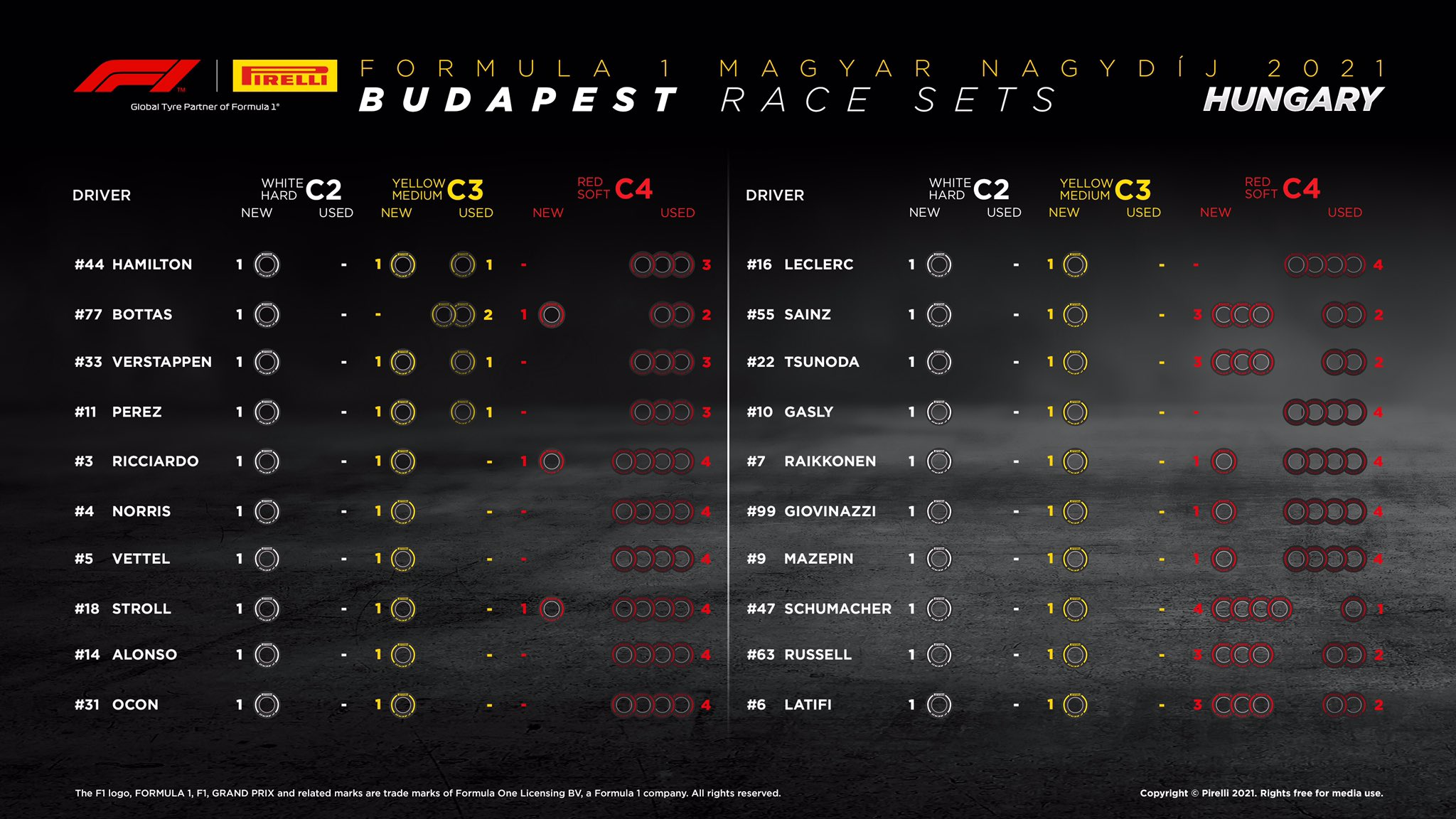 Long run of the pilots in PL2 (petrol unknowns and power mapping – credits @ tonisokolov1011)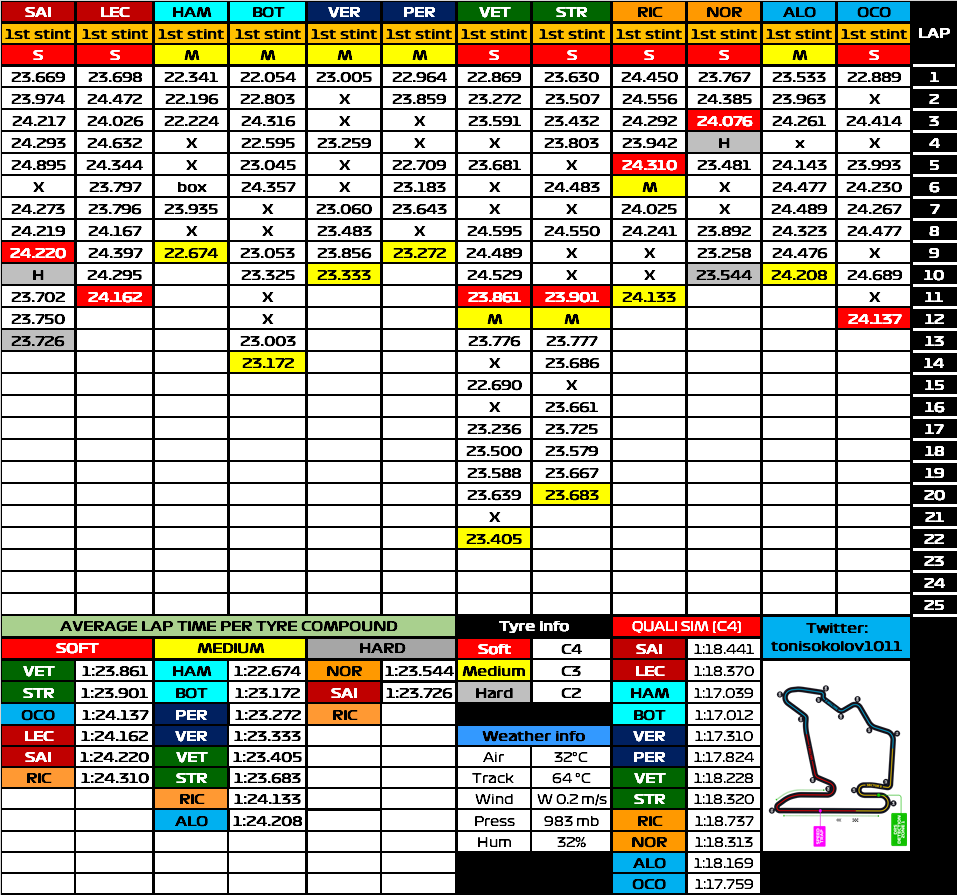 Forecast for the race (15:00 local time)
3 pm: mostly cloudy, 33 ° C, wind 24 km / h SW, 10% probability of rain
4 pm: mostly cloudy, 28 ° C, wind 24 km / h SW, 76% probability of rain

Television programming in Italy
Live Sky Sport F1: 13:15 Paddock Live, 14:55 GP Hungary, 16:55 Paddock Live
Delayed TV8: 16:25 Pre-race, 17:55 Hungarian GP, ​​19:55 Post-race