It is dark when Cathie Moreno closes the corrugated iron that separates her church from the sandy street. Night falls over the Andes, bringing with it an icy wind. In this slum, a campamento with forty thousand inhabitants near the port city of Iquique in the northern region of Tarapacá, there is no electricity. In the distance dogs bark, cars rattle and bangs sound. Maybe from fireworks.
At least twenty regular churchgoers have come. They are part of the Haitian community that lives in this camp. "I don't know how many we are," says Cathie, who serves as the pastor. "But what I do know is that until recently we were much more. Many have left." She built the church herself, together with her husband, shortly after her arrival in 2016. A square space with thin wooden plates as walls, chairs and a platform that Cathie stands on during services. Haitians are very religious and need a place to pray, says Cathie. On Sundays, the room, lit with a flickering light from a generator, is completely full. It makes it difficult for Cathie to leave Chile. "I want to leave, but these people here need me. This little church is all we have here. We are one family here and we offer support to those who are in need."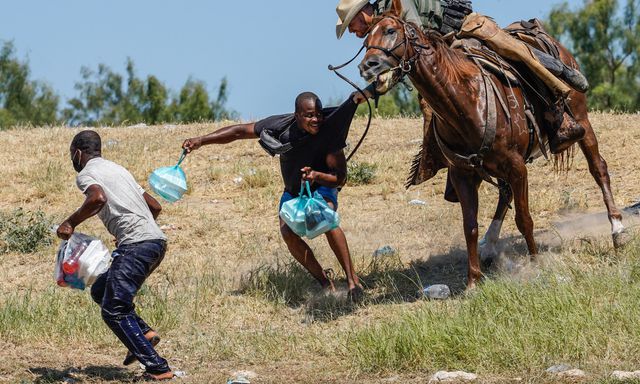 Also read: After 'Afghanistan', Haitian deportations cause Biden publicity pain again

And they are having a hard time. Although the Haitians present try to complain as little as possible, more and more desperate stories are released as the evening progresses. About racism. About unemployment. An illegal status. But especially many stories of divorced families. Take forty-year-old Davide Saint-Pierre. His children are still in Haiti with his mother, he has not seen them since he left for Chile five years ago. But his mother is ill, Haiti is unsafe and it is almost impossible to get them to Chile. "I'll have to get out of here, otherwise I'll never see them again," he says. Where to he does not know. "Probably to North America."
No more family reunification
Thousands of Haitians have left Chile in recent months. They often leave on foot, through the rugged, mountainous border area between Chile and Bolivia. There is no money for airline tickets, if land borders are already open due to the pandemic. The migrants embark on a perilous journey north to Paraguay, through Ecuador and Colombia to Central America, hoping to reunite with their families in Mexico or the United States. Why Mexico, many of the churchgoers do not know. "I heard you can get a visa there and bring your family over there within a year," Louise Sahounouchly shouts. She has been waiting for a residence permit for four years and is not allowed to work because of her illegal status. Like almost everyone else present, her children are still in Haiti: Chile no longer allows family to come over.
That was under the previous government, led by then president Michelle Bachelet, but different. Haitians, like other South Americans, could come to Chile as tourists and then apply for a work visa. Family could also come afterwards. In 2018, with the more conservative Sebastián Piñera as president, that changed. He introduced a decree whereby Haitians, who now come to Chile by the tens of thousands a year, had to apply for a visa in their home country. For Haitians who were already in Chile, it became a lot harder overnight to bring their families over.
Nothing is more important in life than family. I cross half the world to be with my children

L. Sahounouchly Haitian in Chile
"Migration usually works like this: first the parents migrate with their oldest children, their younger children stay with grandparents and later are flown in," said Ramina Ramos, migration researcher at the regional university. "But because of the mass migration, the government has become increasingly aggressive against Haitians. There was migration from Bolivia, Peru and Venezuela, but this decree was only directed against the Haitians."
Although it became more difficult to get to Chile, the Haitian migration to Chile did not stop. Away from the hurricanes, away from the economic crisis, away from political instability: between 2018 and 2021, the number of migrants from Haiti grew from 120,000 to 180,000. "They looked for other ways. Chile's border with Bolivia is long and impossible to control, which is why they mainly come here in the Tarapacá region. Further north, near the border with Peru, there are more controls and mines along the border, dating back to the Pinochet era. Tens of thousands of people still come here every year," says Ramos.
In an effort to cope with the arrival of illegal migrants on the northern border, migrants, many Colombians and Venezuelans in addition to Haitians, were able to apply for temporary residence permits in Chile. But that is especially difficult for the Haitians because of the many papers that are required.
Also read: US started deporting thousands of Haitian migrants

At the church in the campamento, those present, who came in so timidly, begin to shout at each other about the visa process. "The Haitian embassy here, it doesn't answer anything!" Davide shouts. "And we have to provide a paper stating that we have no antecedents in our home country, with an apostille. But getting such a stamp is life-threatening in Haiti, in Port-au-Prince there are shots everywhere!"
According to sociologist Ramos, the government in Chile is not aware of the reason for the large-scale Haitian migration. "There is forced migration: natural disasters, political, economic and social crises, almost a civil war. You have to come up with a solution for such migrant movements. The Chilean government failed to do so, while Venezuelan migrants found it easier to obtain a visa. Haitians are treated as inferior here because of their skin color and language."
Xenophobia
Anti-migration sentiments are also evident in Iquique, where a tent camp in a town square was attacked by residents of the town in late September. Tents, mattresses, clothes, toys and even a pram were thrown into a huge fire. Anti-migration slogans were shouted.
Two weeks later, the charred remains of the tent camp are still there. A wall in the historic center of the city reads "fuera migrantes", away with migrants. Migration is everywhere in this city: from Venezuelans camping on a beach, from begging children in the center and during conversations with the inhabitants of the port city. What everyone emphasizes: they are not against migrants, but against these huge numbers. Against the tent camps, the poverty on the streets, the increased insecurity.
"Our region is closely linked to migration. For centuries," said the governor of Tarapacá, José Miguel Carvajal. "But the Tarapacá of two years ago, when it was very open to migrants, is no longer the same region as it is today. There are more and more xenophobic voices."
Carvajal, governor since the end of June, has nothing good to say about the approach to migration in the region. The growing aversion to migrants, the situation of the migrants themselves, the limited resources for local and regional authorities: he attributes it to the absence of the national government in the northern border regions. "In terms of money, in terms of decisions, in terms of visa arrangements, we are dependent on the government in Santiago. But they don't listen. They never come here. I called the president, told him about the crisis here and all that happened was that containers with soldiers were placed at four locations on the border. Both the inhabitants of this region and the migrants stranded here must be helped."
Nothing to lose
When the United States announced in March that tens of thousands of Haitians living illegally in the US would be granted temporary residence permits due to the political crisis on the island, Haitians in her church began to stir, Cathie says. "They wanted to leave anyway." Haitian migrants who reached the US border from Chile threw away their ID cards. Chile chapter closed.
But leaving Chile turns out to be life-threatening. Thirteen dead migrants have already been found this year near the border between Chile and Bolivia. The actual number of victims is probably higher. During the day it is scorching hot on the migration route, at night temperatures drop to well below freezing. The difference in height makes the long journey a hellish challenge, especially for vulnerable people. Things can still go wrong further down the route: more than a hundred Haitians were found in Guatemala on Sunday in a container left behind by a road – although those migrants probably did not come from Chile.
Yet the Haitians in Cathie's church are not afraid. "What have we got to lose?" Louise says in a fierce tone. "It is dangerous here in the camp, I have no work and no papers. Nothing is more important in life than family. I will traverse half the world to be with my children. And if so many Haitians are moving north now, surely life will be better there?"
A version of this article also appeared in NRC in the morning of October 13, 2021