new Delhi.

BSNL has announced a Dhansu offer for broadband and Bharat Fiber users, where users can get Google bundles i.e. Google Nest Mini and Google Nest Hub at very low prices along with other plans including BSNL Monthly or Annual. However, BSNL has revised the Google bundle offers and has made it much easier for the users.
read this also-LG's unique laptop coming, will be able to make keyboard-screen big, see details
Who will get benefit
Currently, in the Google bundle offer announced by BSNL, Bharat Fiber users can get 799 monthly plan or more for one year, two years or three years plan for 10.5 months in a year, 20.5 months in 2 years and 3 years. Charges for 30.5 months only. With this, if he gives a fixed amount for 12 months at the rate of Rs 99 per month, then he gets Google Nest Mini.
read this also-Desi app Chingari burns, crores of videos are making 38 million users every day
On the other hand, if BSNL broadband users take a one-year, 2-year and 3-year plan with an amount of Rs. 1999 per month or more, they will also get 10.5 months in a year, 20.5 months in 2 years and 30.5 months for 3 years. Only the charge will have to be paid. Also, if he pays a fixed amount for 12 months at Rs 199 per month with this plan, then he will be able to get Google Nest Hub.
read this also-Cheap 5G phones from Lenovo coming to compete with Redmi Note 9 5G, see details
What was the offer before
Earlier, in the Google bundle offer of BSNL, the user had to pay money for one year, 2 years or 3 years according to the plan, plus he got 13 months for Google Nest Mini at Rs 99. And Google Nest Hub had to pay 13 months for Rs 199. In this regard, BSNL's revised Google bundle offer is much better, where money is saved, as well as the best smart speakers of Google are also available at a low price.

read this also-These broadband plans of JioFiber, BSNL and Airtel Xstream are less than 500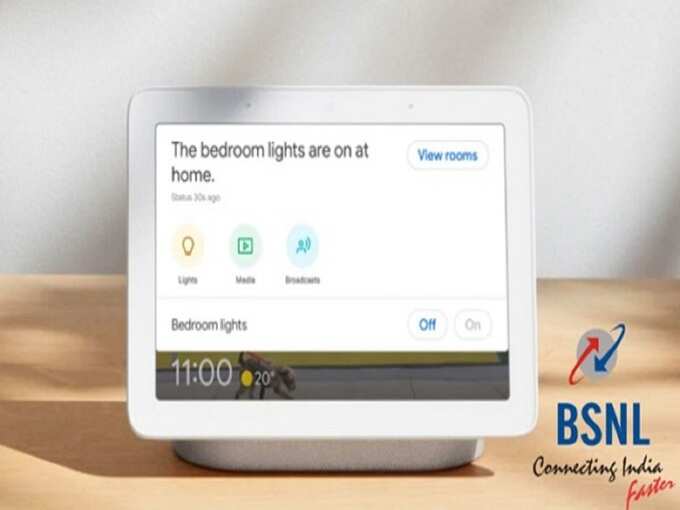 Savings only savings
Let me tell you that if you go to buy such a Google Nest Mini, then you have to pay Rs 4,999 in a lump sum, but BSNL subscribers have to pay only Rs 1,188 under BSNL's Google bundle offer. At the same time, the price of Google Nest Hub is Rs 9,999 in the market, but BSNL users have to pay just Rs 2,388 under the offer.
read this also-Realme Fastest Growing Smartphone Brand, Sold 50 Million Mobiles in June-September
.