Through "The great celebrity chef", Giacomo Bocchio He has been able to show his knowledge in the kitchen at an international level, since he has taught his methods to milett figueroaMiguel Vergara, Natalia Malaga, among other members of the reality show. Despite being a renowned chef today, when he was young, he did not always have the support of his family to practice the trade that he is so passionate about. In an interview with The Republicthe businessman and also a youtuber told how his beginnings were learning and preparing his first culinary dishes.
YOU CAN SEE: Would Giacomo Bocchio leave "The Great Chef: Celebrities" if there is another season? This revealed the cook
The beginnings of Giacomo Bocchio in the kitchen
Since I was very young, Giacomo Bocchio He knew what he wanted to dedicate himself to, which is why he began practicing at the Rosa Náutica at the age of 17. He explained that, like all chefs, he began by cleaning floors, an activity that he carries out to this day.
"Until now I have to clean floors sometimes. It's something that seems normal to me. I started at the age of 17 as an intern at Rosa Náutica, but my parents didn't want me to be a cook. So, I've been working for free For a year and a half, my parents realized that I didn't have weekends and I spent my tips on the ticket," he said.
Giacomo Bocchio shines in the kitchen of "The great celebrity chef" teaching the participants. Photo: @GiacomoBocchio/Instagram
YOU CAN SEE: The great celebrity chef REPECHAJE [SEGUNDO DÍA]: Relive the competition of the eliminated contestants
What did Giacomo Bocchio's parents think about his passion for cooking?
the passion of Giacomo Bocchio She wasn't entirely welcome to his family, but his discipline and perseverance in his work showed them that he was taking this job seriously as part of his life.
"I hadn't studied Cooking yet. I was studying Hotel Management, and my parents didn't want me to be a cook. It was a different time, although today there are still parents who don't feel comfortable with a job, because being a cook is a job, you can take it professionally if you want," he said.
In addition, he told the reason why they did not consider that the kitchen was for him: "I had many problems as a boy, it was hard for me to pay attention, the kitchen helped me a lot".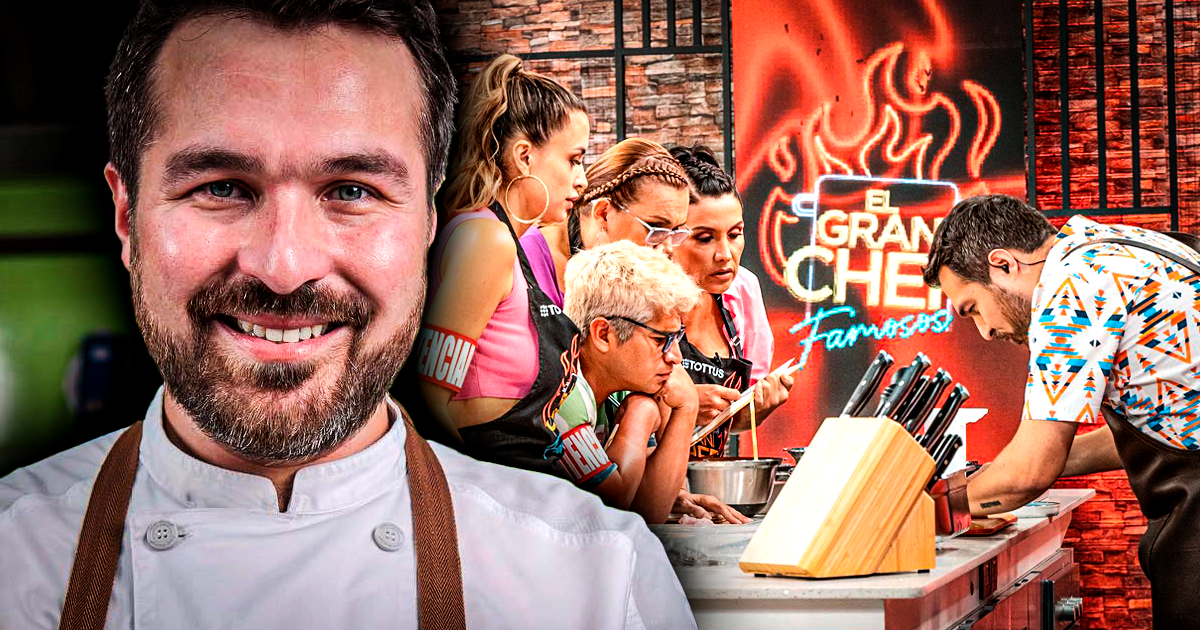 Giacomo Bocchio talks about his companions in "The great famous chef". Photo: Composition by Gerson Cardoso/Latina
Would Giacomo Bocchio continue in "The Great Chef"?
Due to the high rating points it has generated"The great celebrity chef" in the tub, Giacomo Bocchio he feels grateful to the public that sees him on TV and follows him on his social networks. Therefore, if there is a second season, he does not rule out his presence.
"Yes, of course. I hope it happens. I am grateful to Rayo en la Botella and grateful to Latina for having chosen me in a casting; and happy because they allow me to communicate to the people who are watching the channel that the job of cook can be run in a professional manner," he said.
#Giacomo #Bocchio #start #world #cooking #parents #disagree