Magaly Medina continues with the intrigue of how Camila Escribens arrived on the red carpet of the 2023 Cannes Film Festival, for this reason, she virtually linked up with Paula Manzanal, who has also attended the event for seven years, so that she can tell her all the details of her experience. The model revealed that in this edition she arrived in the company of some friends in their twenties who are billionaires. As is known, she currently resides in Barcelona, ​​for which she stressed that she "was close" to the trip.
Who are the young people who accompanied Paula Manzanal to Cannes 2023?
Paula Manzanal explained that it is important to know the "right" people to enter exclusive events, such as the Cannes Film Festival. "I know a lot of people there, it's an hour from Barcelona, ​​so it's super close," she said initially from Mykonos, in Greece, where she is on vacation.
"I came because of some friends who work in Dubai, who are young billionaires, who are 22 years old, they became famous for crypto, bitcoin. They invited them and they told me: 'We have an extra space, if you want, come on the jet', and well, they are friends of mine from a long time ago, some children from Dubai", he highlighted.
Who is Paula Manzanal's new love?
In another part of the video call, Paula Manzanal commented on her time in Monaco and Mykonos, where she is currently with soccer player Mijailo Mudryk, a 22-year-old promise from Chelsea (professional soccer club from England, which is currently playing in the English Premier League). .
"(And are there girls, boys, in the villa where you are staying?) Well, I also invited the Chelsea footballer. In another room he sleeps. We have four rooms in this villa. Mijailo Mudryk is super young," said the model.
Paula Manzanal met the Ukrainian soccer player at an important fashion event. Photo: Composition LR/Magaly TV
Then, he stressed that they have not made anything official yet because they are just getting to know each other. "Yes, I like collagen, Magaly, I can't deny it. But let's see (what happens with Mudryk). Little by little. It is that footballers are complicated, we go little by little. He is part of the group, we are a group and I have included him. They gave this villa to me and I included it, "he concluded.
What NBA star did Paula Manzanal meet?
The luxurious life of Paula Manzanal It has allowed him to rub shoulders with stars from Hollywood and also from the world of sports. In conversation with Magaly, he mentioned the time he entered an exclusive club in Monaco with the help of LeBron James himself, the NBA's top scorer. And they even invited her to the after party, but she decided to go rest. "It's just that I'm going to turn 30," she said.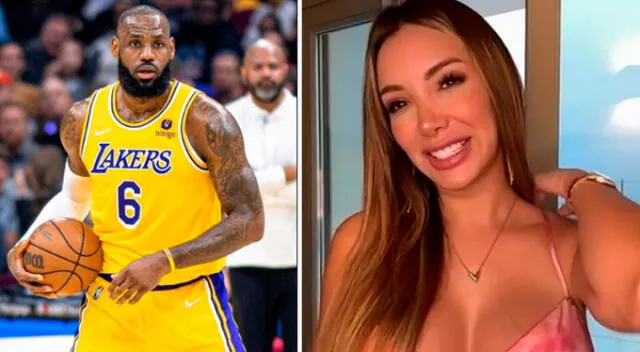 Paula Manzanal recounted her experience with LeBron James. Photo: composition LR/Instagram
"There are several events in Monaco. One of them is Jimmy'z Monte Carlo, where the most expensive table is 120 thousand euros. I arrived, with a friend, without having a table, I stood at the door and, suddenly, some very big, dark-haired boys came in. They grabbed our hands and told us: 'come with us'. It was LeBron James. He took us to his table, maybe you can't record anything for security, but super cool," he said.
#Full #luxuries #Paula #Manzanal #traveled #Cannes #private #jet #billionaire #friends