There are people who get excited about a show and count the days until the latest issue of their favorite fashion magazine is on the newsstand and run for it. Luis Sala (Mutxamel, Alicante, 2002) is one of them. He studied fashion design and received a scholarship from MoMA in New York as a contemporary artist. He also captures his passion for "an apparently ephemeral trade, but capable of leaving immortal creations" like few others on paper.
He talks about those unforgettable creations and their authors in his book 'Dressing is dreaming. From Fortuny to Palomo' (Turner), an informative and agile journey through one hundred years of national fashion, from the birth on the Basque coast of the genius who revolutionized fashion, Cristóbal Balenciaga, to the Cordoba town of Posadas with the birth of the current reinventor of genderless fashion, Alejandro Gómez Palomo, designer and creative director of the firm Palomo Spain.
Through its pages we also travel through the invisible thread of Sybilla Sorondo, the colors of Ágatha Ruiz de la Prada, Manolo Blahnik's passion for footwear, the memory of David Delfín, the newcomer María Rodríguez at the helm of REVELIGION, the talent of Paloma Picasso with her jewelry or the vindication of the crafts of Teresa Helbig and Lorenzo Caprile.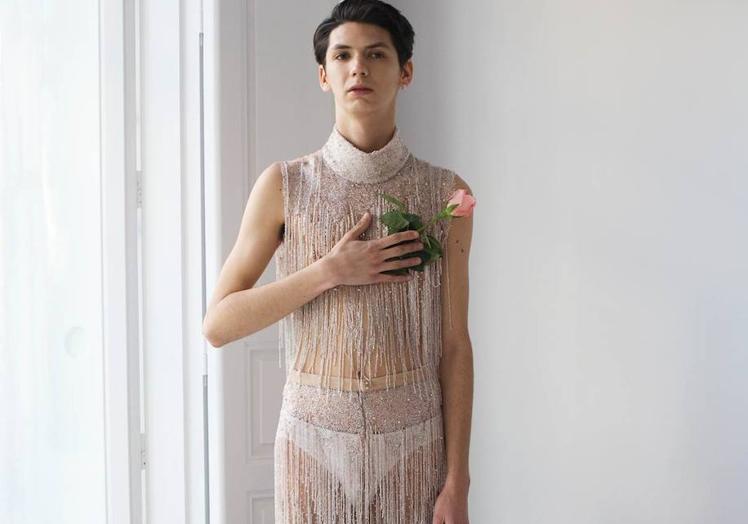 A work that, explains Sala, arose "perhaps after having slept a lot." «The few good ideas that have come to me have been like this. I know that I wrote to Dolores Cortés. They responded great and immediately sent me many things to help me write. Then I decided to continue and more designers arrived. This was a real dream », she explains.
In the end, there were 31 of the most relevant dressmakers in the Spanish industry among whom, due to space limits, he has not been able to count on others such as Carlos Duarte, who amazes him "his work at the helm of Duarte Madrid, or JC PAJARES" . "Spanish fashion is huge and at some point I had to cut it," he says. «I present a few, I will invite you to look for others», he adds in his prologue.
Sybilla taught a lesson with her work to a country that, as she said, only cared about bulls, sex, the sun and religion
He assures that he would not eliminate any of those included without being able to opt for one. This is like choosing mom or dad. I studied design by Sybilla and David Delfín because I was amazed by their designs and their ways of looking at the world, but afterwards I couldn't leave anyone out. I love Juan Vidal's fashion, so elegant and groundbreaking at the same time; María Escoté and her prints; Teresa Helbig, Moisés Nieto, Leandro Cano and that search for a craft that seemed extinct; Dolores Cortés and that perfect swimsuit, which doesn't need anything else… I love all the designers inside. They are my idols and I dedicate this writing to them.
He is put in a bind when he is asked to talk about the pieces that have marked Spanish fashion instead of designers: «It is very difficult. I think of Sybilla's Spain dress, that she gave a lesson to a country that, as she said, only cared about bulls, sex, the sun and religion. How can we also forget that blue dress with which Lady Gaga, dressed by Juan Vidal, looked like a real Cinderella straight out of the story? She took care of everything. Even the shoes were clear vinyl from the designer and mimicked glass! Or the flowery cape from Palomo with which Cristina Ortiz, 'la Veneno', did her last photo shoot and after her Beyoncé publicly presented her twins ».
ambassadors

But if we talk about national fashion ambassadors, they come to mind "from Laura Ponte, Nieves Álvarez, Jon Kortajarena or Judith Mascó, to the new models that continue to come out of national agencies." «I think -he adds- that Rossy de Palma has been a good ambassador. I still remember her dressed as Palomo in Cannes, or as David Delfín and Sybilla for many other occasions. She has the ability to always surprise us and that has made her iconic ». "The designers are also her own ambassadors, look at Ágatha Ruiz de la Prada, she is the best image that she has been able to choose for her signature," explains the author.
A Spain that also joins the image of companies like Zara and Mango. "It is indisputable that they have an international presence. The Spain seal is resonating abroad when we talk about fashion", clarifies Sala. «The other day Duarte told me that he sells more abroad than in Spain. And they remind us, wow they do! You say Sybilla in American Vogue and they know who she is, what she's done and what she does. Famous international figures take notice of our fashion. The names of our designers are resonating, but we don't want them to compete with Mango or Zara. I doubt they want to. They play in different leagues. Some sell author's design and others mass clothing. You cannot compete neither in profits, nor in costs, nor in anything».
#liberated #woman #Fortuny #real #man #Palomo #Spain