From side to side. Iraola made his debut on the Rayo bench against Mallorca, but that Sunday September 13 there was also another debut in Son Moix. The one starring the youth squad Mario Hernández Fernández (Madrid, January 25, 1999). This promising right-back was given the alternative by an Athletic record in said demarcation. Hence the importance of his advice, his instructions … "That day the coach told me to be me, to play as in preseason. He is a very close person. I feel privileged because he played in my position and can help me more in some things", confesses the defender.
His first kicks to the ball were given in the Madrid neighborhood of Usera. It ran in the family. Almost all of his uncles played soccer, although none passed the barrier of Second B and it was his father who gave him that little bug as a child. Of course, "when I was three or four years old I didn't like him very much," he laughs. Already with five it started at the Atlético school and he made the leap to the quarry until he was 16. Moment in which the Strip and the Juvenile C of Galapero crossed his life. Later, he was under the command of Míchel, Cembranos … Until, at just 19 years old, he had to pack his suitcase and try his luck on loan to other teams.
His first destination was Recreativo (18-19). There he ran into a bureaucratic problem that kept him in the dry dock for months. "When I signed I was injured in the ankle and when I recovered, already in mid-October, I asked the coach why he was not called up. That's where I found out. The sports director explained to me that they had entered the card late and it was like a winter signing. I couldn't play those four months. Just the first time I left the house. It was a bad experience", he remembers, although that made him grow as a person:"Living alone helped me grow up. When I was 19, I went shopping, cooked, did all the chores … ".
That same course, in the winter market, he headed to Melilla. "Those months there I was already in a hotel," he jokes. This time the adventure was very positive: "I had minutes, we played the playoff and they eliminated us in the semis." And he shared it with striker Yacine Qasmi, with whom he has met again this summer. "When I saw that he signed for Rayo, I congratulated him, I told him that he came to a great club and that he was going to enjoy a lot. Seeing him in preseason has been a joy," explains Mario last season (19-20) he played for Sanse.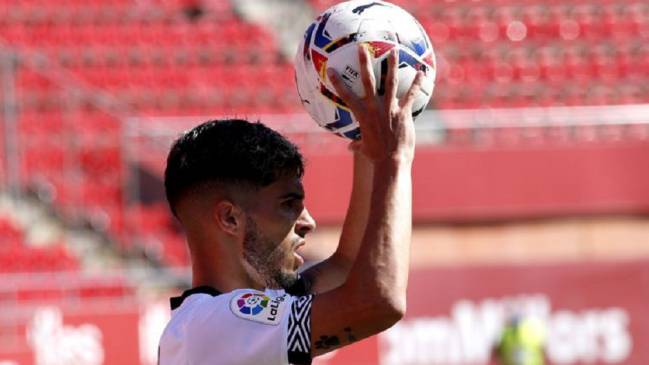 Thus, with his departures, he was gaining experience. Thus, the dream opportunity arrived. "In the morning I was nervous, but during the game you forget everything. The captains and all the companions wrapped me up and they made me feel at ease. At the end I had many messages congratulating me. It is an immense joy because I had been fighting for this all my life", he details, aware of what is still ahead:" I have been in several preseason periods and I want to stay. It is the goal of all homegrown players. Debuting was a satisfaction and it's fine, but now what I want is to stay and I will fight for it".
Mario Hernández keeps intact the illusion of that child who he admired Xavi Hernández and acted as a midfielder. Over time he became central and led to the right wing, where he was definitely placed by Míchel. Now he feels that Iraola's philosophy "favors the band." "What the coach wants is that we have the ball and attack, not have it to have. And reach the goal to score. Be more vertical," says the defender, makes a wish aloud: "Ascend to First with the Ray." And of course, continue at home, learning under Iraola's tutelage.