There are no difficult teenagers – they are absolutely normal, independent and full-fledged people who just want everyone around to do what they want. However, adults want the same, notes Evgeny Stychkin. He believes that people can hurt each other when they love each other very much, but do not know how to admit it. About it the actor told Izvestia after the screening of the series Contact, which became his directorial debut, and on the eve of the premiere of the series Beyond Himself, where he played the main role…
"TOnly all-encompassing all-forgiving love, the rest will follow"
– At the Pilot festival for your role in the project Beyond Yourself, you were recognized as the best actor. How long did you have to wait for recognition?
– My acting fate threw me here and there. More often it was just a lot of work. Something that was done got "on the table" and did not appear on the screen, but something that brought great acting joy and recognition from fans came out. I am not very spoiled by the attention, I did not have a one-time takeoff. Only a long progressive process…
– In the TV series "Beyond Yourself" you play a person, who has to investigate his past. Your hero is a successful financier. But is he essentially insane?
– Normality, after all, is an extensible concept, depending on what the norm is for each of us. My hero is just a very passionate person, different principles are fighting in him: masculine and feminine, love and hate, fear, recklessness, and so on. He really wants to see his child and is ready to believe in anything. "Beyond himself" reflects on the relativity of realityand.
– For your directorial debut – the series "Contact" – you have chosen the theme of the relationship between fathers and children in the era of social networks. What interested you in troubled teens?
– It's a happy accident. My friend, producer Alexandra Remizova, offered to take on this movie – and I did. I think Sasha understood that this topic was not that wildly close to me, but quite understandable.
By the way, I actually don't have difficult teenagers in the film. They are absolutely normal, independent and full-fledged people. They just want the world to be tailored in accordance with their ideas of beauty, so that everyone around them does what they want. However, we, adults, wish the same.… It seems to us that we are all so correct, we know what teenagers need – but they, you see, are difficult. And in fact we do not understand them, because they can be more interesting, faster. They are different anyway…
Shot from the series "Contact"
Photo: Production company "Sreda"
– They do everything as they want … Isn't it selfishness? If you remember your school, it is unlikely that you were allowed to talk to teachers like this, as shown in your TV series, and even more so – to offend the teacher in front of the whole class.
– I meant something else. When we push children into frames, they begin to react, resist, look for an opportunity to hurt us so that we understand how it hurts them…
– You grew up behind the scenes of the Bolshoi Theater, your mother is the ballerina Ksenia Ryabinkina. How did she raise you?
– She had little free time. But if it did appear, she spent it on me. Mom loved me very much.
– You started talking about love, but it seemed to me that your film is about dislike. The heroes have problems because they were disliked. Do you agree?
– No, on the contrary. Cinema is about love, about how people love each other and do not know how to say about it… The hero of Pavel Maikov loves his daughter on the verge of self-denial. And what does he do? She deceives, manipulates her in every possible way. The same goes for the daughter. She wants to be loved, and first of all – her father. And she insults him, shows: "I am independent. Just as strong and cruel. That is why you must understand and love me. " But in relationships, these tools don't work.…
– Do you remember your school years?
– Oddly enough, I remember well. Everything in my school was very strict – showdowns with teachers or classmates in class were impossible.
Photo: TASS / Sergey Fadeichev
– Maybe this is the reason for the problem that now there is no such severity?
– When my parents studied, Stalin was in power. If we want something like that, then, of course, we must go in the opposite direction. Freedom is a very complex matter, it is achieved by long exercises.… Generations not accustomed to it – those who were imprisoned and shot for expressing their will, for thinking aloud – painfully perceive the current situation. But a lot of people have already grown up who understand freedom not as something that can be given to someone in the mouth and send a teacher away, but as an opportunity to think and see in their own way.…
– You talk like a psychologist. These experts advise helping children so that they can express themselves, find themselves. But what about the role of parents as counselors? Should they guide the children?
– Yes, of course, parents should say: "Drugs are unacceptable. Laziness, lies, cowardice are bad. And courage is good. " In this sense, parents should guide. But where does it end? How far can I go in the desire to make my child a football player or a chess player that I could not become myself? If you have a complex – your dad beat you, you got used to it and now want to be like him, communicating with your child – you can hardly do this without consequences. A child is more ruthless than a parent, faster and more cunning. An entire generation has an upgrade in their heads like computers…
And even if the child goes into conflict, he will still win – because he is ready for anything. He will raise the stakes every time. Better to let him go. And only all-encompassing all-forgiving love can keep him close.… The rest will follow.
"Employees of Timiryazevka believed that we were not morons"
– Pavel Maikov, playing his father in "Contact", – very accurate fit into the image. Were there any other contenders for the main role?
– Maikov in this role is my great joy. Although at first the producers had questions. They wanted me to do auditions. And I tried about 30 people, of which 10 are respected, great actors. But Pasha was more accurate. In general, cinema is like a puzzle, and Maikov has perfectly integrated into our history. Everything came together in him – age, physiognomy, psychophysics… In addition, he is professionally trained and in excellent working shape. I hope the role of Gleb Barnashov will open up new horizons for him, although he is already a great, accomplished artist.
Shot from the film "Contact"
Photo: Production company "Sreda"
– Humor adds charm to Maikov's hero. He jokes with a serious face – and this makes the jokes even funnier. Did the actor improvise on set or stick to the script?
– Half of the jokes were spelled out, and the rest were born during the filming. You can look at life through the eyes of Tarkovsky, or you can look at life like Charlie Chaplin. And then the same situation will look completely different. Even in the most difficult situations, people do not lose their sense of humor. And sometimes, sitting at the commemoration, they fall from the chairs with laughter. Life is full of irony.
– In the series, you did a great job with the musical range. The image of the father is accompanied by the songs of Depeche Mode, and the young heroes are accompanied by the compositions of Morgenstern. How did you solve the music rights issue?
– Actually, we couldn't afford expensive music. After all, Depeche Mode alone costs three times more than the entire musical budget of the picture. Still, I begged the producers to consider purchasing these tracks. They have invested additional funds, for which I am very grateful to them.
– Were there any problems with Morgenstern?
– You can always negotiate with Morgenstern. Yes, with any performer one way or another, contact is possible… If they see that the material is cool, the artists are famous, then it is much easier to talk. And the question of money is already a business…
Why is the juvenile office in the book depository in your film and not in the police station?
– Most of the plot takes place in the police's children's room. This depressing territory with a nightmare picture I could not shoot… And he suggested the idea that everyone had been relocated for the duration of the renovation. But where? They needed a municipal building that could be provided for a real police unit for six months. Both a kindergarten and a cinema were offered, but we opted for the book depository of the Timiryazev Academy… I had to finish writing a dialogue between Maikov and Alexei Agranovich, which explains that while the police building is being renovated, the children's department was moved to a basement with a book depository.
Photo: RIA Novosti / Ekaterina Chesnokova
– How did the staff of the Timiryazev Academy look at the film crew?
– I love books very much, I treat them with great trepidation, so we initially agreed that we would be extremely delicate in relation to everything that surrounds us. And seeing this, the ministers relaxed on the second day of filming. They believed that we were not morons.
"Working as an artist is very fun and irresponsible"
– Have you satisfied your directorial ambitions? Maybe you have an appetite and you are up to something else?
– When I finished shooting "Contact", I thought that I would make a pause. After all, I also have my acting ambitions. But it happened – and Sasha Remizova did it again! – what I was offered to shoot a large and complex project "Zero Patient". The story is based on real events. In 1988, when there could not be AIDS officially in our country, 75 children in the republican hospital in Elista were infected with it.…
– Does your cinema also fulfill a social mission?
– Of course. Since you're in sight, people listen to what you say… But if I am working on a film about HIV, I definitely do not consider myself a connoisseur of medicine, and if I made a film about raising children, I am not a pro in pedagogy. But still – the better and more accurately I tell the story, the more exciting the plot will be, the more the characters fall in love with themselves, the more educational effect cinema will have on society…
– What are your plans for the future?
– I don't make long-term plans. I think it makes sense to work as an artist, because it's very fun and irresponsible.… It is snowing – good, the sun is shining – great. Everyone was late, the car won't start – well, what can you do. I am sitting in a trailer, drinking tea, reading a book. In addition, an actor in a movie earns five times more than a director.… And I have many children, so I need to earn a little extra money.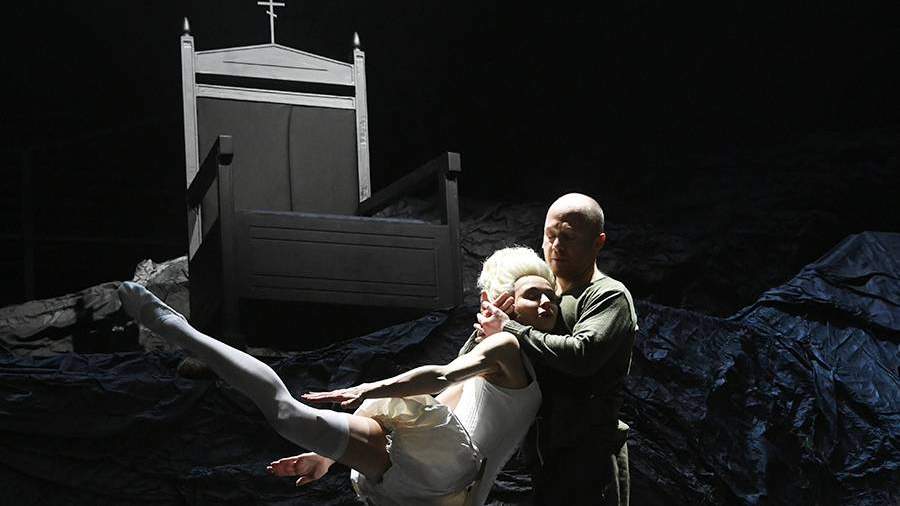 Diana Vishneva and Evgeny Stychkin at a rehearsal after the pre-premiere screening of the play "Lefty" at the Theater of Nations
Photo: RIA Novosti / Vladimir Fedorenko
– Do you plan to swipe at the laurels of a Hollywood actor?
– There are several western projects, one of them is in Greece. But in order to move towards Hollywood, you have to do it. And sometimes I am not initiative enough… Some of my colleagues are now working with Hollywood production. I could well do this too, especially since I have complete order with the English language.
– Recently the premiere of Dmitry Krymov's play "Two. Chaplin and Mikhoels ", where you performed in the unexpected image of Stalin. Are you enough for the theater?
– Now, given such cruel experiments with cinema, I almost completely abandoned the theater… I play two, sometimes three performances a month.
– Do you miss the stage?
– Both on stage and on theater. But most of all – by the audience, by direct communication with the audience. The audience gives me the best energy. And with him you can do a lot…
#Freedom #complex #matter #achieved #long #exercises