With five races to go, the 2021 Formula 1 year is approaching its climax. Where will classification leader Max Verstappen and Lewis Hamilton get back into their cars, what does the program still look like for the two rivals and how many points are there still to be divided?
Five more races
• November 7: Mexico
Two weeks after Austin, the circus moves to Mexico. At the Autódromo Hermanos Rodríguez, Hamilton (2016 and 2019) and Verstappen (2017 and 2018) have won the last four grands prix. In the last edition, in 2019, Verstappen was fastest in qualifying, but was given a three-place grid penalty for ignoring a yellow flag. During the race, a flat tire threw him far back, but after an impressive catch-up race he still finished sixth.
Last GP in 2019 (top-3)
1. Lewis Hamilton
2. Sebastian Vettel
3. Valtteri Bottas
6. Max Verstappen
• First free practice, November 5: 6.30pm-7.30pm
• Second free practice, November 5: 10pm-11pm
• Third free practice, November 6: 6pm-7pm
• Qualifying, Nov. 6: 9pm-10pm
• Race, Nov. 7: 8pm-10pm
• November 14: Brazil
There is a chance that the first signs will become visible at the Autódromo José Carlos Pace, where Verstappen won the last edition (2019). Are Verstappen and Hamilton still on each other's heels or has the first hole been punched? The Brazilian Grand Prix is ​​again preceded by a sprint race.
Also read:
• This is the position in Formula 1
Last GP in 2019 (top-3)
1. Max Verstappen
2. Pierre Gasly
3. Carlos Sainz
• First free practice, November 12: 16.30-17.30 hrs
• Qualifying, November 12: 8pm-9pm
• Second free practice, November 13: 4-5 p.m.
• Sprint race, November 13: 8.30-9pm
• Race, Nov 14: 6-8pm
• November 21: Qatar
For the first time, a Formula 1 race is on the program at the Losail International Circuit. In the city north of Doha, usually mainly motorcycles race, but now the F1 cars land there. At least if the circuit is completed. Qatar will have a 10-year contract with F1 from 2023.
• First free practice, November 19: 11.30-12.30 o'clock
• Second free practice, November 19: 3 p.m.-4 p.m.
• Third free practice, 20 November: 12.00-13.00 o'clock
• Qualification, November 20: 3 p.m.-4 p.m.
• Race, Nov 21: 3-5pm
• December 5: Saudi Arabia
What can Verstappen do on the Jeddah Street Circuit, where the Saudi Arabian GP is a newcomer to the Formula 1 agenda, just like in Qatar? In advance it may be a difficult evening for Verstappen on the self-proclaimed 'fastest street circuit on the Formula 1 calendar'. That could be right up the alley of the Mercedes. At 6.175 km, the street circuit in Jeddah is the second longest circuit, after Spa-Francorchamps. Big question here too: will the circuit be completed on time?
• First free practice, December 3: 13.30-14.30 hrs
• Second free practice, December 3: 5:00pm-6:00pm
• Third free practice, December 4: 2pm-3pm
• Qualifying, December 4: 5:00pm-6:00pm
• Race, Dec 5: 18.30-20.30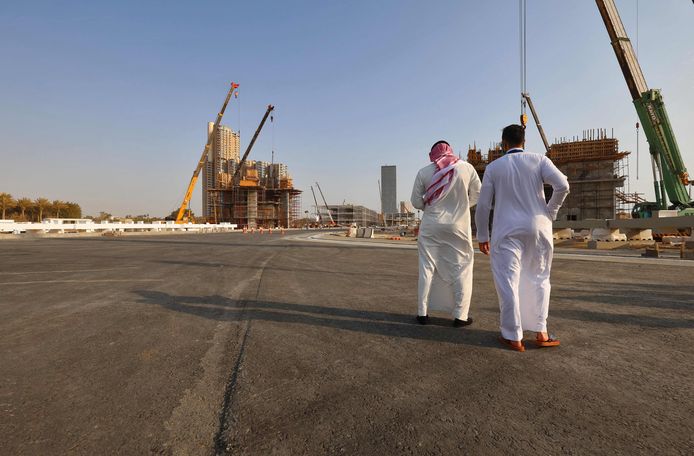 • December 12: Abu Dhabi
Will the decision be made here, on the last F1 day of 2021? Then everything probably stands or falls with the qualification. Whoever takes pole will have the best papers a day later at the Yas Marina Circuit. It is not for nothing that the Abu Dhabi Grand Prix is ​​called the Arab Monaco because of the 20-turn circuit. This century, the championship has already been decided seven times in the final race.
Last GP in 2020 (top 3)
1. Max Verstappen
2. Valtteri Bottas
3. Lewis Hamilton
• First free practice, December 10: 10:30-11:30 a.m.
• Second free practice, December 10: 2pm-3pm
• Third free practice, December 11: 11 a.m.-12 p.m.
• Qualifying, December 11: 2pm-3pm
• Race, Dec 12: 2 p.m.-4 p.m.
125 more points
There are, excluding the sprint race in Brazil and the bonus points for the fastest race lap, no less than 125 points ready at the five grands prix. Verstappen's lead at the moment is twelve points. That tiny margin promises a battle that has not been decided for the time being and may not experience its undoubtedly nerve-racking final until the closing race on December 12.
This is the distribution of points per grand prix
• Winner: 25 points
• Second: 18 points
• Third: 15 points
• Fourth: 12 points
• Fifth: 10 points
• Sixth: 8 points
• Seventh: 6 points
• Eighth: 4 points
• Ninth: 2 points
• Tenth: 1 point
Are there still bonus points to earn?
Yes, and there is a chance that they will soon decide on the world title. For example, since 2019 there is a bonus point for the fastest race lap at every Grand Prix. And who does not honor the small …. So there are still six points ready for the remaining grands prix, exactly the difference between Verstappen and Hamilton at the moment.
But we also have one of three sprint races to go in 2021. In Brazil, three, two and one points are ready for the top 3 consecutively.
Can Hamilton and Verstappen both be crowned world titles?
New. They can be equal in points, but if there is an equal number of points, it is immediately checked who has won the most races this year. He is crowned world champion. It has never happened in the history of Formula 1 that the top two drivers had the same number of points after the season. One point difference did occur: in 2007 Kimi Räikkönen became world champion by staying one point ahead of Lewis Hamilton. In 2008 Hamilton in turn had one point more than Felipe Massa.
Watch our Formula 1 videos below.
Free unlimited access to Showbytes? Which can!
Log in or create an account and don't miss out on any of the stars.

Yes, I want free unlimited access
#Formula #title #battle #boiling #point #awaits #Verstappen #Hamilton #races