The Maranello-based carmaker presented two patents that provide solutions to lighten open-top supercars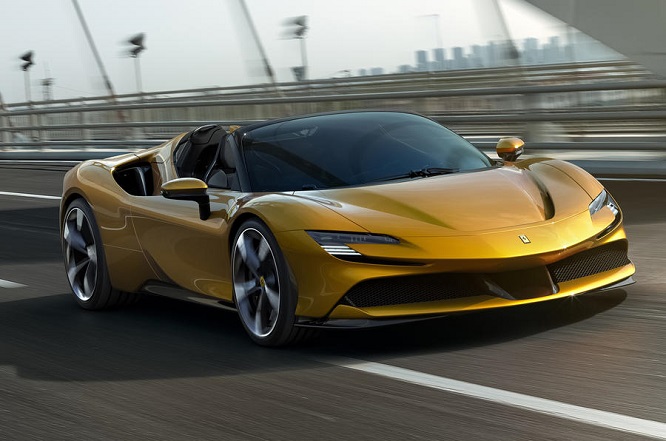 Ferrari looks to the future of its sports cars, not only from an electric point of view but also from the point of view of new technologies. After the patent filed for the sound system that could be integrated on the first EV supercars, the Maranello-based carmaker has filed two new licenses concerning a system capable of transforming a spider from a 2+2 car to one with only 2 seats. Il Cavallino has filed two projects with the United States Patent and Trademark Office (USPTO) that introduce new technologies capable of making open-air models more functional. Starting from the first patent, able to radically change the nature of a Ferrari spider making it go from a 4-seater to a 2-seater.
The system patented by the Modena brand was intercepted by CarBuzz who tried to explain how this technology works after having published some technical drawings. Ferrari has decided to abandon the classic deflector which is cumbersome to install and store when removed, providing that the rear seat backrest can be folded when not in use, directly becoming an aerodynamic element of the vehicle. This system works through actuation struts and a high-mounted element on a portion of the seatback that can lift it from an upright to an inclined position towards the top of the front seats, effectively closing off the rear area. The backrest is thus locked down through a mechanical or electrical lock and thus forms an almost single surface that reduces aerodynamic resistance and vibrations. The saving is also in terms of weight, with the use of components already integrated into the car which also allows for a benefit on the scale. At the same time, the disturbance of the air flows and the noise inside the passenger compartment would also be reduced when traveling with the hood down.
The second patent, on the other hand, shows how Ferrari has thought of a solution for storing large items in the car when the sunroof is open and the flap is in place. The Maranello house provides that the central part of the rear seat backrest is made of a mesh material, with the same deflector covering them. A somewhat cumbersome system which, like the first one, could also never be implemented and used on a Cavallino road car.
#Ferrari #tomorrows #spiders #change #seats