Although the Karoq only came to complete the Czech manufacturer's range four years ago, Skoda's second SUV (after the Kodiaq) is proving a success: both in 2020 and the first six months of 2021, it had only the Octavia ahead of the world as the most delivered Skoda. It is therefore logical that the compact SUV will receive an update halfway through its career to perpetuate that success.
In appearance, this translates into redesigned bumpers and a wider radiator grille in combination with slimmer headlamps, which are now also available (as an option) with matrix LED technology. At the rear, the headlights have also been updated (and fitted with dynamic indicators), while the spoiler at the top of the rear window has been slightly extended to improve aerodynamics. In addition, new rims are introduced, which also help to reduce the drag coefficient to 0.30. Finally, the color palette is expanded with two metallic paint finishes, Phoenix Orange and Graphite Grey.
Eco-interior pack
Inside, the Karoq can be ordered with an optional Eco package, which includes a seat cover made of vegan and recycled material (from PET bottles). The front passenger seat can now also be adjusted electrically as an option, while new LED mood lighting and inserts on the dashboard and door panels should enhance the quality impression.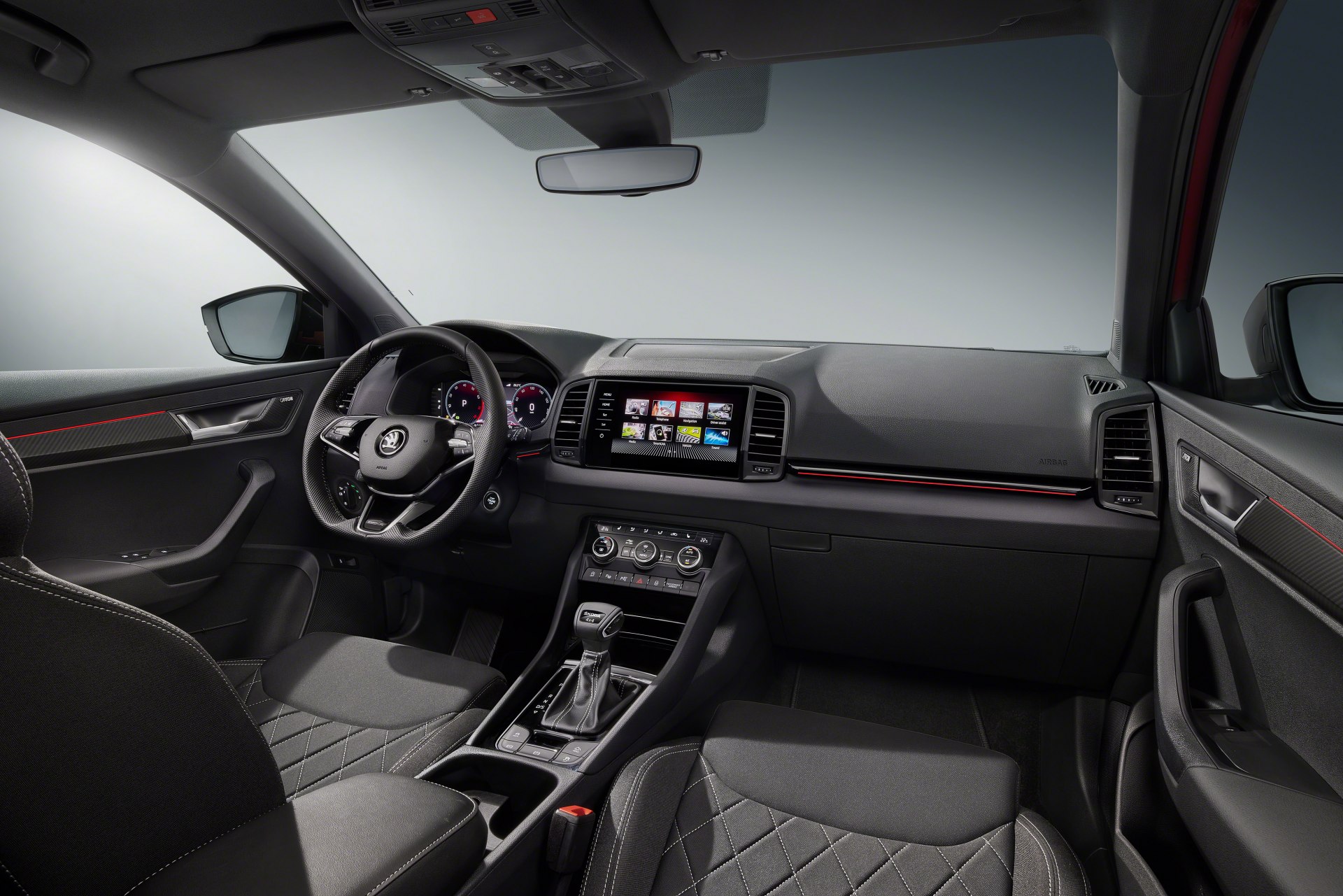 In the course of 2022, the Karoq will receive digital instruments as standard, on an 8-inch screen or as an option 10.25 inches. The driver assistance systems are also being improved. For example, the collision preparation system is now also active when reversing and traffic sign recognition is improved thanks to a more accurate camera. The Adaptive Lane Keeping Assist now also recognizes road works, while the improved version of Travel Assist also includes Park Assist and Side Assist with Rear Traffic Alert. And if the driver of the Karoq becomes unwell while driving, the car can bring itself to a stop in its lane.
Cleaner and more economical
In the motor area, some interventions must ensure that consumption and emissions are reduced. For example, the SCR after-treatment of the diesels was further developed, with now a double dose of AdBlue to further reduce nitrogen oxide emissions. The 1.0 and 1.5 TSI get a new powder-coated layer on the cylinder walls to reduce internal friction and therefore consumption and emissions.
The engine range itself remains on the petrol side, consisting of the three-cylinder 1.0 TSI (110 hp) and the four-cylinder 1.5 TSI (150 hp) and 2.0 TSI (190 hp). Dieselaars can still go to the 2.0 TDI with 116 or 150 hp. Four-wheel drive is only available on the two-litre.
#Facelift #Skoda #Karoq #AutoWorld