Enrique Ujaldón will leave the General Secretariat of Development to hold the same position in the Ministry of the Environment under the orders of Juan María Vázquez. The election of Ujaldón, a veteran popular leader, has a special relevance because under his time the Mar Menor Management Plan was developed, which is in the submission phase and must pass the approval of the Ministry to which he now joins.
Territorial Planning is a competence that has been left in the hands of the vice president and regional leader of Vox, José Angel Antelo, which also includes the regulation of economic activities in the Mar Menor area, being in any case the approval of the Department of the Environment to any initiative with environmental impact. Precisely, in an interview conducted this Monday on regional public television, Vice President Antelo revealed that he had already had his first meeting with Juan María Vázquez.
Also significant is the appointment of the until now general director of Public Function, Carmen María Zamora, as general secretary of the Ministry of Education. Resolving the school transportation problem will be one of the first hot potatoes on their table, if this conflict continues beyond this week.
On the other hand, Rosa Ana Pacios and Aída Peñalver are the two women chosen by Vox to lead the General Secretariats of Development and Infrastructure and of the Interior, Emergencies and Territorial Planning, respectively.
Palacios, a lawyer by profession, will be the number two in the Department headed since last week by José Manuel Pancorbo, the engineer chosen by Santiago Abascal's training to handle everything related to the infrastructure of the Region of Murcia. The lawyer has worked in the past for the Orenes Group.
Aída Peñalver, also a lawyer by profession, will be José Ángel Antelo's right-hand woman at the head of the Ministry of the Interior, Emergencies and Territorial Planning. She has more than ten years of professional experience and is specialized in Civil Law.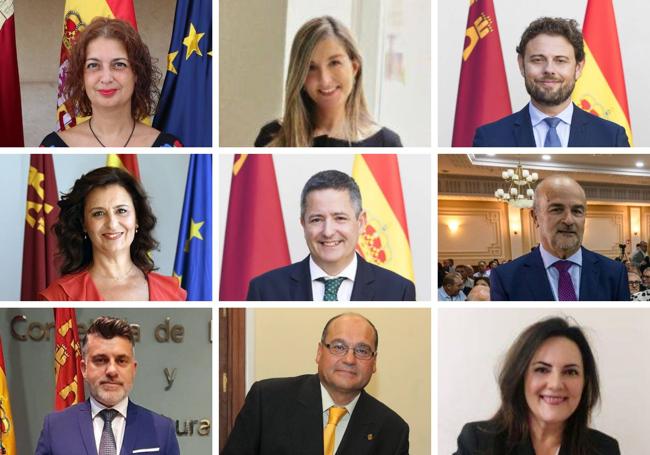 The Government Council also approved this Monday the appointment of Leopoldo Olmo Fernández-Delgado as secretary general of the Ministry of Social Policy, Families and Equality, who will remain in office after having been appointed last February. Likewise, his counterpart in the department of Presidency, Spokesperson and Foreign Action will be María Caballero Belda.
In the Ministry of Water, Agriculture, Livestock and Fisheries, Francisco José González Zapater will repeat the position of general secretary after having been appointed to the same position last February. The same case occurs with his partner Sonia Carrillo Mármol, who will continue to head the General Secretariat of Economy, Finance and Business.
Finally, in the Ministry of Tourism, Culture, Youth and Sports, Juan Antonio Lorca Sánchez will continue to be the general secretary, while in Health Andrés Torrente Martínez will continue in office.
#Enrique #Ujaldón #general #secretary #Environment