The fact that the municipality of Nijmegen is not in a hurry with a heat network in its district was the last straw for Jan van der Meer. ,,I have decided to get rid of the gas myself in my upstairs apartment from 1909. Fully electric heating is possible in such an old house. And the bill is not too bad!"
As GroenLinks politician, deputy in Gelderland with energy and climate in his portfolio, Jan van der Meer naturally has something to prove. ,,But besides being a politician, I am also just a resident. I think every home owner wonders how he should heat his house in the future. The question became succinct for me when the gas boiler started to leak."
From his profession, he had expected that Nijmegen would quickly extend the heat network to his district of Bottendaal. As alderman in Nijmegen (2006-2014), he was responsible for the construction of the heat network, which uses residual heat from waste incineration to heat houses. "However, after two years of meetings, it is still not clear what will happen in this district. That is why I started looking for electrical solutions. In the end I thought: I'll just do it."
This is usually difficult in houses of that age, says expert Roy Janssen of heating equipment manufacturer ATAG, who is not involved in the installation in Van der Meer's house. "It has partly to do with insulation, but also with the dated delivery system. This is usually calculated on a high pipe temperature of about 80 degrees. Those temperatures cannot be generated with an electric heat pump."
heat gun
,,On a cold day I used a heat gun, so you can see what temperature the water is in the radiators. I don't have underfloor heating, but I do have larger radiators. The temperature was about 40 degrees and inside it was comfortable. Well, that should also work with an electric heat pump."
Van der Meer was only convinced when an architect friend announced that his corner house is fully electrically heated with an air-to-water heat pump with 8 kilowatts of power. ,,Then I thought: then I'll go down to 9 kilowatts, I'm sure it's good. Moreover, with more power there is a chance that noise pollution will decrease, which is also a tricky point with heat pumps: there has to be a device on the roof and that simply makes noise."
What should be noted: the deputy's house is old, but well maintained. The walls were insulated from the inside a few years ago and the windows were replaced with HR++ glass. The fact that the house is an upper and intermediate house helps to reduce the 'heat demand', explains expert Janssen. "The house will probably get some heat from the neighbors and the ground floor."
Laundry room
The installation just fit in the laundry room. A boiler with 200 liters of water is needed for tap water (shower and tap). "It is connected to a solar collector that I already had, in addition to the twelve solar panels on the roof. That makes the intervention even more economically favorable."
The cost of installing the heat pump: 9100 euros. With 1900 euros in subsidy, that came down to 7200 euros net. "Partly thanks to my solar panels, which generate a large part of the electricity, I have earned it back in eight years with the lower energy bill. What surprised me even more was that I asked for a maintenance contract, but apparently that was not necessary. Electric heat pumps require less maintenance than central heating boilers. So that is also less costs. Though that's not my main goal. I think the most important thing, of course, is that we don't have any CO2 emit more."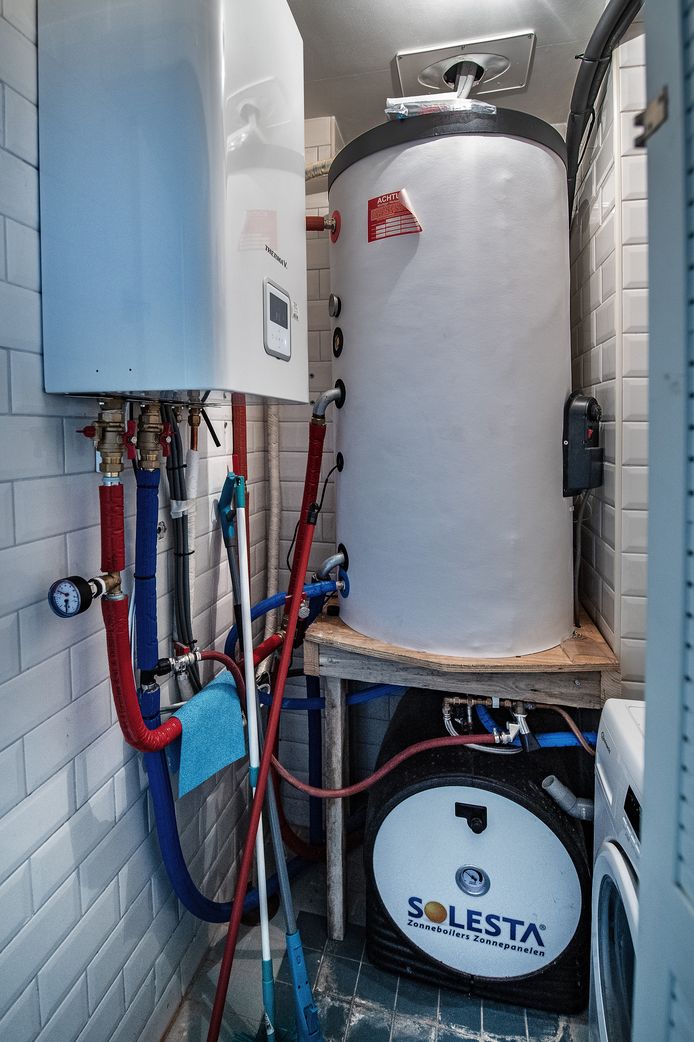 Do you include insulation?
Critical readers will say that you also need to factor the cost of insulation into the equation. "Of course I often hear those sounds at birthdays," says ATAG expert Roy Janssen. "In my opinion, all kinds of costs for maintenance are sometimes added to the home that you have to see separately from the heat pump. Replacing the frames and then immediately taking the windows with you is part of the maintenance of old houses. It makes the house more comfortable."
According to Jan van der Meer, it was nice and warm in the house even in the last cold winter. ,,However, I was a bit concerned about an annoying hum. The installer has installed vibration dampers on the roof. That hum disappeared like snow in the sun."
His energy provider has now adjusted the monthly rate to 30 euros per month. "The bill is very good. This is exactly the amount I expected. And it gets even lower, because I see that the standing charges for the gas pipeline are still there, but I no longer have them. And I think we can be even more economical, because the solar boiler is enough for a hot shower, so I think it can stay off all summer."
His lesson: ,,We are too careful. I hear all kinds of arguments not to switch to electric, but it's not all that exciting. I understand that this story does not apply to every house, but many people have a terraced house and may be inspired to at least investigate whether it is possible in an old house."
This article previously appeared on this site on February 20, with now an addition about the energy bill.
Free unlimited access to Showbytes? Which can!
Log in or create an account and don't miss out on any of the stars.

Yes, I want free unlimited access