0 COMMENTS
02/23/2022 6:10 pm
This Friday, February 25, Elden Ring It's finally hitting the market. However, the specialized media have already had the opportunity to enjoy the new adventure of FromSoftwareAnd in case you weren't aware, this 23 of February all the reviews came out (including ours). What do critics think about Elden Ring? Well, suffice it to say that, at the time of writing, this game is already one of the highest rated of all time.
On metacritic, Elden Ring currently has a rating of 97/100, the same as games like The Legend of Zelda: Breath of the Wild, Grand Theft Auto V, Metroid Prime, and others, have obtained. There are only four titles with a rating of 98, while The Legend of Zelda: Ocarina of Time reigns with a score of 99.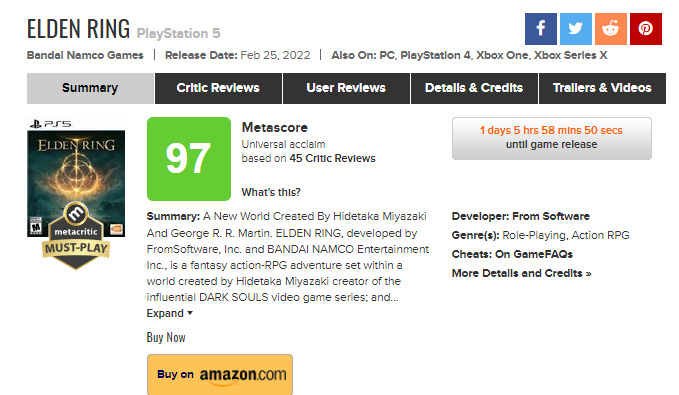 It is likely that in the following days this rating will go up or down, since surely there are still a couple of sites specialized in publishing their respective reviews, however, this shows that Elden Ring Without a doubt, it met all the expectations of the fans.
Elden Ring arrives at PS5, PS4, Xbox Series X|S, Xbox One and PC on February 25, 2022.
Publisher's note: More than deserved that qualification, since Elden Ring really is a very special title. FromSoftware has managed to reinvent their formula, and in the process, they've delivered a game that's totally worth it. It will be difficult for any other game this year to top what was done with Elden Ring.
Via: IGN