In less than a month we will be able to get our hands on the new game from Hidetaka Miyazaki and FromSoftware: Elden Ring. As the release date approached, the game's marketing department got busy and began sharing more information, sometimes through new trailers, sometimes directly through the words of Miyazaki or his collaborators.
As with every game of the Japanese team, we started talking about the difficulty, accessibility (two very different concepts) and the consequent potential stress that players could experience. As always, FromSoftware has tried to stay in the middle, confirming that the new game will not betray the classic style of the team (and will therefore be loved by historical fans), but at the same time he wanted to emphasize how this new chapter is designed to help new players and make the game more accessible.
These are talks that we have heard since the days of Dark Souls 2, when the saga began to pick up pace, to be on everyone's lips. Even "niche" games (defining souls-like niche is now incorrect, but we understand the concept) want to sell themselves to the widest possible audience, so there is nothing strange that from chapter to chapter From has always aimed to more on the issue at an advertising level (and also at a playful level, actually, because the various games have really become more accessible).
So here we are, a month or so from Elden Ring, that we hear Miyazaki repeat for the umpteenth time that the game will be more accessible. We hear him repeat that the difficulty of his games is never designed for the sheer sake of being difficult. We read his words, through which he repeats to us for the tenth year in a row that overcoming a difficult obstacle is much more satisfying than having won it immediately, that reasoning, learning and memorizing are fun activities. All true, and the millions of units sold by his games prove that she isn't exactly just a thing for him.
But as we have said, it is the exact same speech that has been made for years. If a certain slice of gamers weren't convinced by Dark Souls 2, Bloodborne, Dark Souls 3 and Sekiro, why should they be convinced by Elden Ring?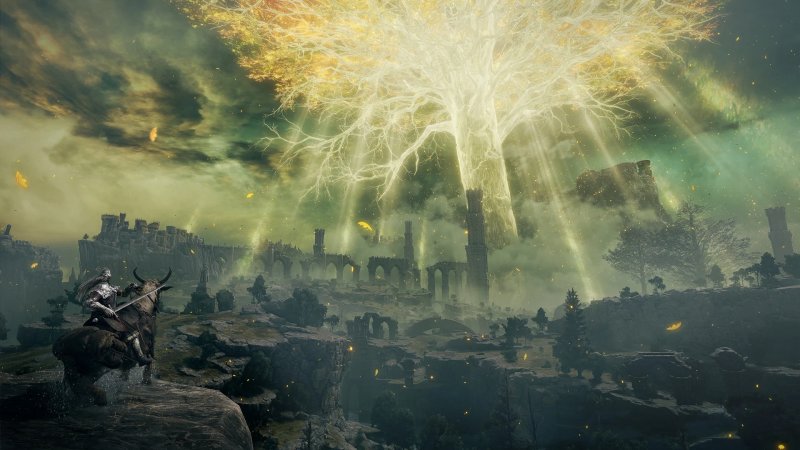 For theopen world and the renewed freedom of approach. And partly also for the spectacularity and the range of moves available to the character. Elden Ring, in fact, will allow us to advance in a non-linear way in the game. Yes, there will be mandatory points, with for sure powerful bosses to take down with difficulty, but in case you can't defeat them, you won't find yourself stuck in the same spot for hours and hours having no other way to go. With an open map, and those who have tried the Network test can confirm it, you can begin to explore and face challenges of lower difficulty and come out empowered, both from a character and a personal point of view. There will be much more room to practice fighting, pad in hand, and it is credible that the "grinding" will become much less relevant.
In addition, Elden Ring also offers a kind of special attachment system equipable on the weapon, which broaden the attack moves and give more variety and freedom to the clashes. Right from the start it is possible to have access to magic hits from a distance that can be activated with a normal sword, or very strong attack moves. In all honesty, there is almost a risk that such attacks could be abused to win much easier.
Add to this the fact that the shield and parries have been put back in the center of the gameplay, not only to defend but also to attack. In Elden Ring, in fact, parrying a blow allows you to activate a counterattack which in addition to doing damage causes the enemy to break the balance, which therefore becomes vulnerable to a critical hit. Basically, not only those who play actively and aggressively will be rewarded, but also those who prefer to survive first of all.
We don't think the game will become a joke because of that, but for the first time ever, we get the impression that the steps forward in terms of accessibility are clearer. Even if you've never loved souls-like, don't assume that Elden Ring is like everyone else too. We will have the answer at the end of February, but in the meantime … let's talk about it.
Parliamone is a daily opinion column that offers a starting point for discussion around the news of the day, a small editorial written by a member of the editorial team but which is not necessarily representative of the Multiplayer.it editorial line.

#Elden #Ring #difficulty #stress #game