When he left Minas Gerais earlier this year, 23-year-old Leo had a plan to go to the United States to try to have a better life, like many of his compatriots. But last Friday, he returned to Brazil on a flight in which he spent much of the time handcuffed, after seven months in prison. "They put us in high security prisons and returned us to our country handcuffed. I, who had always been in good health, came back taking five antidepressants and had alopecia, half of my hair fell out. They were seven months of agony and terror, "Leo told EL PAÍS when he got off the plane at the Belo Horizonte international airport, in the municipality of Confins. He came on a chartered flight along with other deported Brazilians after they crossed the US-Mexico border.
Flights like this have become frequent in Confins, in the Belo Horizonte metropolitan region. They have been repeated since 2019, when Donald Trump's deportation policy was activated. They arrive once a week. In August of this year, already under the Democratic government of Joe Biden, the United States requested the extension to two flights, and Washington's expectation is to be able to send three planes a week to the country with deported Brazilians. This is a reflection of the exponential increase in the number of Brazilians deported after crossing the Mexican border. The data obtained by EL PAÍS show that in the last 12 months the number of Brazilians detained in this situation has doubled compared to the previous three years.
The figures come from the US Customs and Border Protection (CBP), the US agency responsible for border patrols and the detention of illegal immigrants. In the period that constitutes the US fiscal year, which runs from October 2020 to September 2021, 56,881 Brazilians were arrested after crossing the border with Mexico on foot. In fiscal 2020 there were 7,161, apparently due to the impact of the pandemic. A year earlier, in 2019, there were 17,893, which was a significant jump compared to 2018, when 1,504 were registered. These are people of various ages and backgrounds trying to cross the long border by sea or through the desert or even surrendering to US immigration to seek asylum.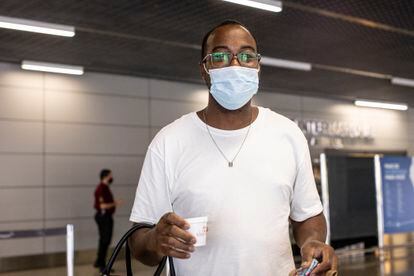 The exodus of Brazilians in search of job opportunities in the last three years joins the movement of other Latin Americans, which has led the United States to one of the greatest migratory crises in history. There is a record increase in people trying to enter the country through the Mexican border, the highest in 20 years, according to the Secretary of Homeland Security, Alejandro Mayorkas. The crisis has led Democrat Biden, who during the campaign criticized his predecessor for inhumane treatment of immigrants, to follow the same line. Dramatic images last month of border guards on horseback capturing Haitian immigrants by lasso went around the world.
The Brazilian situation also worries the Mexican authorities. This month, the government of President Andrés Manuel López Obrador announced that visa requirements for Brazilian tourists will soon be resumed. Since 2004, the two nations have an agreement whereby the presentation of a passport is sufficient to guarantee access. There is still no date for the restriction to take effect: the project is in the consultation phase. According to the text presented, the measure will be temporary and will aim to prevent the entry of travelers "whose profile does not correspond to that of an authentic visitor or tourist." Also according to this new legislation, some Brazilians "present inconsistencies in their documentation (…) which reinforces the possibility that a significant number of people intend to use the visa waiver improperly."
Join EL PAÍS now to follow all the news and read without limits
Subscribe here
The story of Leo, who spent seven months in a United States jail, is not unheard of in his hometown, Governador Valadares, of 280,000 residents. Valadares is known in Brazil as Valadollars due to the large number of inhabitants who live in the United States and send remittances to their families. Leo followed a route that is repeated by the thousands: he went to Mexicali, took a taxi to the border with Arizona, in the United States, and paid 300 dollars to a coyote to help him get to the other side of the border illegally. "They deceived me, they told me that I would spend three days at the border and would be inside," he says. However, he was discovered: "They did not let me ask for asylum, they did not interview me, they only told me that they had denied me." "If the process is quick, if they already know that they are going to deport you, then they should deport you immediately, you don't have to be detained for seven months. Now that I'm in Brazil, I want my barbecue, see my family and I'm not going to go back there ".
In the dozens of flights that have landed in Confins bringing Brazilian deportees, the scene repeats itself. They disembark in a daze, their few belongings stored in sacks of potatoes. They are often far from home and do not know how they are going to get back to their places of origin: all flights arrive in the capital of Minas Gerais, but they bring people from different states. Pedro, 21, crossed the border with his wife and one-year-old son. After the asylum application questionnaire in the United States, she was approved, he was rejected. "I left here looking for a better future for myself, my wife and my son. My life was difficult, we were both unemployed. Since we surrendered at the border, I have not had contact with them, I was in jail for three months and I only spoke with them last Thursday, a week before leaving. In these three months that I was detained, I lost 10 kilos. It was very humiliating, "she says. "But I'm going back. My family is there, I will do the same again. I will try until I die or until I enter ".
The frustration of being separated from the family is also a common mark among deportees. Caio tried to enter the United States with his wife and, like Pedro, ended up failing after seeing his partner pass the interview. "I left [de Brasil] what everyone is going for: to try a better life, to make my dreams come true, "he says. "I went through Mexico. First they arrested me there with my wife. I went hungry, my wife was harassed in jail. They sent us back to Mexico City, then we went back to Mexicali, we indulged in American immigration. During the interview for a possible asylum, Caio was asked if he had ever suffered "torture or any kind of religious, political persecution, those things." "I did not pass [la entrevista]: I was imprisoned, I suffered psychological pressure, my brother-in-law died while in prison. I stayed there for five months and they threw me out ".
Airport personnel are already used to receiving deportees, who arrive hungry, desolate and need to reestablish contact with freedom. Many disembark crying, like Jessica, who spent almost an hour crying on the phone at the airport. "I did not commit any crime other than trying to enter that country so that they could chain my hands, feet and waist. It was a desperation. Since I was little, I have wanted to go to the United States and the crisis has only increased this desire, "she says. Jéssica was a zootechnical student, but decided to abandon her studies in search of that dream. He caught a plane and went to Mexico. "At the airport the taxi drivers themselves know where to take you. I introduced myself [en EE UU]They interviewed me, they rejected me, I paid a lawyer and I appealed, but the judge did not accept it. I spent 55 days there, in prison. "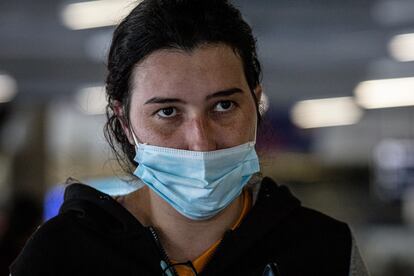 The routine behind bars marked the young woman: "We were locked up all day, the food was served in the cell itself and I would not give it to a pig. The water comes from the cell's sink, where we wash our faces and hands and brush our teeth. I shared a space with just one person and had to relieve myself in front of her. " During the detention period, a last hope crossed his mind: "When it was time to go back, I thought I had been approved, because sometimes permission is denied and suddenly it is approved, without a clear rule. But unfortunately I had to go back ", he laments. "Now I will wait for my father to send me money so I can go home. I live in Rondônia [Estado al norte de Brasil, a más de 2.000 kilómetros de Belo Horizonte]. If I didn't have their help, I don't know what I would do because they send you to a random city and you have to manage ".
The increase in the number of Brazilians trying to enter illegally through the Mexican border has already claimed at least one fatality. In September, US authorities found the body of a 49-year-old nurse technician Lenilda Oliveira dos Santos in a desert near the city of Deming (New Mexico). She had crossed the border with three friends a few days before, guided by a Mexican coyote. During the journey she could no longer support herself to walk and was left to her own devices. She was found dead a week after she sent messages to her family in Vale do Paraíso, Rondonia. Lenilda left two daughters.
Subscribe here to the EL PAÍS América newsletter and receive all the information keys on the region's current affairs
#Deportation #Brazilians #United #States #soars #months #agony #terror