make overAfter a violent burglary when Wanda was home with the two children, the house she had bought with Hendrik Jan no longer felt safe. For a makeover, stylist Liza Wassenaar had to combine rural and modern style, as was the challenging assignment in the SBS program In love with your house again yesterday.
That Hendrik Jan (47) as a farmer, grew up in the countryside, likes a rural style, is not surprising to Wanda (38) at all. "In fact, I naturally fell for a farmer for a reason", analyzes the primary school teacher. However, she prefers modern and color more. ,,Bohemian, other fabrics and colors, that's what I like,' she sums up.
Their house in Woerden has become a mixed bag, according to stylist Liza Wassenaar. With lots of greenery on the wall. ,,Nice huh?" Hendrik Jan still tries with presenter Kees Tol. But for Wanda, green is just not enough. Her husband is afraid that if Wanda does her thing, everything will be too tidy and styled. And that the rural character of their home is lost. He argues for a closer connection with nature.
Kitchen is involved in living space
Liza sees potential in the house. "There is a lot of space and I think the idea of ​​moving the kitchen is a very good one," she responds to the renovation that the couple has already announced. Before the makeover, the kitchen is still in the converted garage, but should be more involved in the living space. "My living solution is then to create unity by, for example, letting the floor continue and coordinating colors."
When selecting the furniture, as inspiration for Liza, hilarity arises because the styles of the two appear to be very far apart. Wanda comes up with a potpourri of bright colours, while Hendrik Jan selects a sturdy wooden table with robust steel elements and little color. Liza reveals how she will mix these preferences in her design. The theme will be 'pure nature', with the bright colors giving way to a calmer palette that can also be seen in nature.
Floor looks like concrete, but is project vinyl
There will be a project vinyl floor on the entire ground floor, with a concrete look. In this way, the many types of wood used in the furniture, including the kitchen made of wood, still come into their own. Underfloor heating also works well with such a floor, keeping the feet warm and providing more comfort.
The natural wood look makes Liza come back in the stairs. The railings are black, as are the windows in the kitchen and the handles in the kitchen. "This also creates a whole", says Liza. The color on the wall by the dining table pops out, granting Wanda's request for more color around her.
"It is almost unbelievable that it is my own house," says Hendrik Jan when he enters after the renovation. "I have to ground myself, but with these earthy tones I will certainly succeed." Wanda immediately enjoys the metamorphosis. "It's a lot of color, but not that bright. Everything looks very calm," she says. "Nature has been brought in", the satisfied farmer remarks as he observes his new house.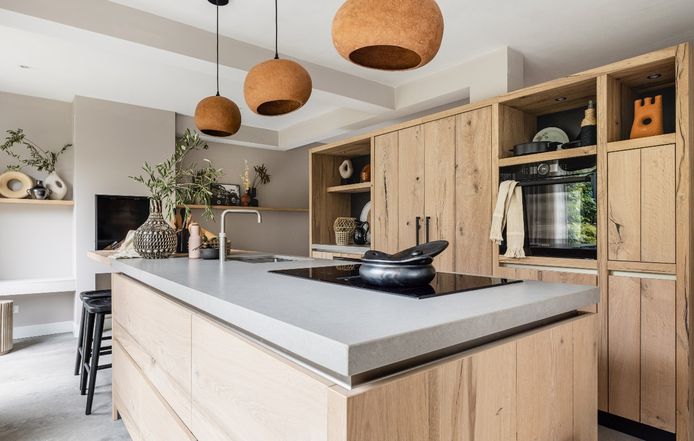 The wooden kitchen: rural and modern
When you say rural, you say natural wood. Therefore, go for wood as the basis for the kitchen. Handleless kitchens are sleek, modern and stylish. But do you still want to have a handle placed here and there in your kitchen? Then go for a copy of, for example, metal with a sleek shape and in a dark color. This way your country kitchen immediately gets a cool look touch.
How do you give that modern twist to a kitchen even more? By having a kitchen worktop placed on the wooden base that is not made of wood but made of concrete, ceramic, granite or composite. These worktops look sleek and modern.
For more tips on combining rural and modern, look at vtwonen. Below the kitchen of Wanda and Hendrik Jan.
Free unlimited access to Showbytes? Which can!
Log in or create an account and don't miss out on any of the stars.

Yes, I want free unlimited access
#Crime #scene #polished #combination #rural #modern