Edited By Aishwary Rai | EconomicTimes.com | Updated:
Highlights
Serum Institute claims to produce large amounts of corona vaccine
Claims of large-scale vaccine production at a rapid pace
Adar Poonawala claims – calls are coming from abroad
Pune

Many companies are engaged in the vaccine race for the infection of Corona Vaccine, which has become like a nightmare for the whole world. Trials have also started. In such a situation, Adar Poonawala, the chief executive of Serum Institute of India, based in Pune, has claimed to be the first and largest number of vaccine manufacturers.

Adar Poonawalla, chief executive of Serum Institute of India (SII), said, "Very few people can produce the Corona vaccine on a large scale at such a low price. That too with such speed. For the first batch of the Corona vaccine, I have been receiving calls from many leaders from abroad. I have to explain that I cannot give you the vaccine just like that. '
Claim to make 500 vaccines per minute

Serum Institute, which was involved in the preparation of the Corona vaccine in collaboration with Oxford scientists, openly claimed to have made the vaccine in April itself. Now 500 doses per minute are being prepared in the company. Although the amount of vaccine will be ready, it is not clear yet. In India with such a large population, vaccine will be needed. In such a situation, Poonawala can divide 50-50 in India and the rest of the world.
The trial of the Corona vaccine being developed by AstraZeneca and Oxford University is encouraging results. The great thing is that AstraZeneca is also collaborating with Serum Institute of India to develop this vaccine. The company's CEO Adar Poonawal said that he hopes to get a license to start a clinical trial soon. After which 3 phase human trials will be started.
Serum Institute of India is the world's largest vaccine manufacturer. It now produces 1.5 billion vaccine doses every year, including vaccines ranging from polio to measles. Oxford University and AstraZeneca have chosen the same Indian company to manufacture their COVID-19 vaccine. The Pune-based company had earlier said that it would start making the vaccine before the last order was received so that the vaccine could be ready in sufficient quantities by the time all the permissions were granted.
Testing will start as soon as permission is granted

CEO Adar Poonawala said, "We will start testing the vaccine in India as soon as we get permission from the Indian regulator." Along with this, we will also start making vaccines in large quantities immediately. ' In the same month, Poonawala said that his company hopes to produce the Covid-19 vaccine by the end of this year. He said that the company intends to make quality and safe vaccines instead of making haste.
Serum Institute was established in 1966

The Serum Institute of India was founded in the year 1966 by Cyrus Poonawalla, the father of Adar Poonawala. The company has partnered with American biotech firm Kodagenics, its rival Novavax and Austria's Themis to make three important vaccine candidates. Poonawalla said that SII will initially focus on producing 40 to 50 lakh vaccine doses every month, which will be increased from 35 to 40 crore annually.
Encouraging results in human trials

AstraZeneca, however, issued a statement saying that in the first and second phase trials conducted by Oxford Univeristy, the vaccine demonstrated strong immunity against the SARS-CoV-2 virus. Scientists said Monday that the Corona virus vaccine developed by Oxford University seems safe. It has created strong immunity in the body.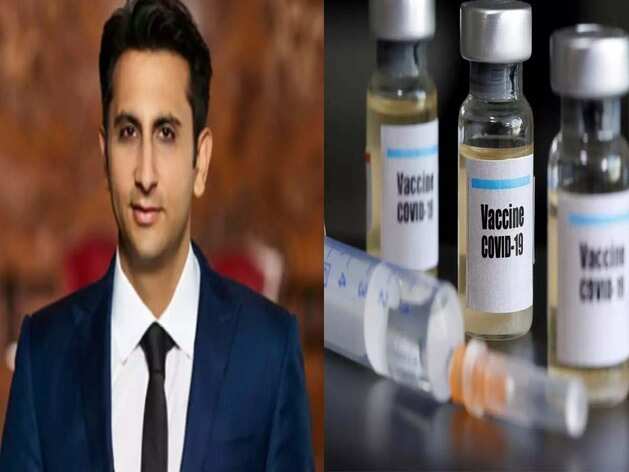 File photo
.