The new baggage rules at Schiphol provide more convenience for travelers, but also confusion and sometimes disappointment. What is allowed or not allowed in hand luggage?
A bottle of water, iPad, contact lens solution or deodorant. In the past, these items had to be removed from the handbag and placed in a transparent bag in a large gray container at Schiphol security. But nowadays they can just stay in the bag.
Thanks to smart baggage scans that they have put into use at the airport. This allows employees at the security check to view the luggage on their own screen in 3D and rotate it up to 360 degrees. Many travelers will appreciate it, thinks Hanita van der Meer of travel umbrella organization ANVR. "It saves some hassle at security."
Confusion about the rules
According to owner Guus Wantia of online travel guide Vliegveldinfo.nl, the new hand luggage rules certainly make the life of the traveler easier, but also cause confusion here and there, and sometimes disappointment. "For example, if you fly back from an airport in Italy and suddenly have to take your bottle of water out of your bag or leave it behind, it can be quite confusing."
Wantia notices from the reactions he receives from travelers and from the online reviews that the subject is alive. "You see that the Dutch expect the modern facilities at Schiphol on their return journey."
Some other large airports outside the Netherlands are working on this new technology, but Schiphol is clearly at the forefront of this

Stefan Donker, Schiphol spokesman
Schiphol spokesman Stefan Donker tempers those expectations of travelers. "Several other major airports outside the Netherlands are working on this new technology, but Schiphol is clearly at the forefront of this." One of those countries that is working on it is the United Kingdom. The British government wants all airports to have switched to CT scans by June 2024.
It is therefore expected that many airports will follow Schiphol's example in the coming years, but until then Schiphol advises travelers to adhere to the generally applicable rules and to look at the rules applied by other airports.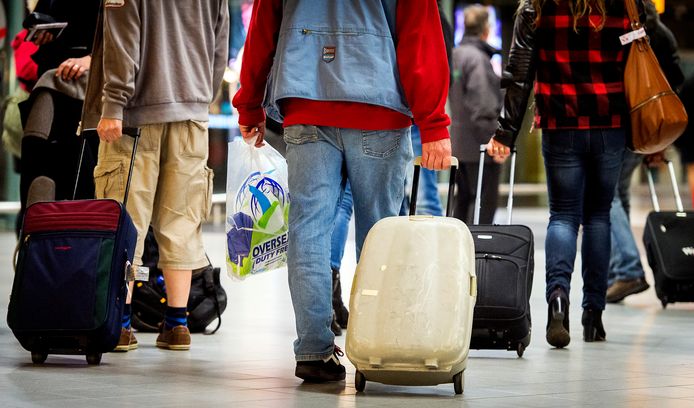 Maximum 1 liter of liquids
An important rule is that 1 liter of liquids can be taken in hand luggage in packages of 100 milliliters each. Smaller or half-full packages are also allowed. the advice is to put those liquids, gels, creams, ointments, pastes or aerosols in a resealable transparent plastic 1 liter bag.
In any case, Schiphol clearly differs from other countries on one point: in some cases, packages larger than 100 milliliters are allowed in hand luggage, provided they are approved at the check by the CT scan and the security officer. "In view of possible confusion or disappointment during a transfer or return journey, we advise travelers to put their liquids and gels in small containers and a resealable plastic bag. That may save hassle," says Donker.
Strict controls on liquids and gels were introduced after planned attacks using liquids were thwarted in 2006.
What about liquids in your hand luggage?
The general rule within the European Union: you can put everything together 1 liter of liquids take it with you in your hand luggage, divided into packs of maximum 100 milliliters. This also includes things like lip balm, lip gloss and a tube of toothpaste.
Larger packages are allowed at Schiphol if they are approved by the scan and employee during a check. If in doubt, it is a good idea not to take larger packages with you in your hand luggage, but to make sure this goes into the hold. Not every airport has such a CT scan, so never assume that a transfer will go smoothly.
It is smart to bundle the liquids in a transparent and resealable bag so that you can easily remove them if necessary. This is not necessary at Schiphol, but it may be standard procedure at other airports. Check the airport's website where you are flying from, the exact rules are explained there.
For taking baby food – if the baby is traveling with you – and medicines on board an exception is made. In the latter case, you must be able to show a doctor's prescription or demonstrate that the medicines are registered on request.
Liquids that you buy after you have passed through security are allowed on the plane. Make sure you have proof of purchase, you may be asked for it. You can also refill your empty bottle with water after the bag check.
Check out our most viewed news videos in the playlist below:
Free unlimited access to Showbytes? Which can!
Log in or create an account and don't miss a thing of the stars.

Yes, I want free unlimited access
#Confusion #hand #luggage #rules #among #travelers #allowed #handbag