ReviewFor the first time in seven years, Bruce Springsteen (73) showed himself on Dutch soil again on Thursday. In the Johan Cruijff Arena he had to work hard for two hours to get the audience on board, but once he succeeded, the third hour was nothing short of a triumphal procession.
It is a quarter past nine, Bruce Springsteen has been racing through his repertoire like a whirlwind for the past hour and a half in the Johan Cruijff Arena. For the first time, after twelve songs that are seamlessly tied together, he slows down. He tells the story of George Theiss, with whom Springsteen formed his first band at the age of fifteen. The Castiles only existed for three years, from 1965 to 1967. "Fifty years later I was on his deathbed," says Springsteen before he Last man standing stake. A song in which he concludes that he is the last one standing.
Let's be clear: that seems to remain the case for a while. Based on what Springsteen shows at the Arena on Thursday, no one has to worry that he won't make it much longer. For three hours he rumbles through the stadium like a musical steamroller, which once again confirms his poor image in terms of sound quality. Especially the jazzy oldies (both from 1973) Kitty's Back and The E Street Shuffle drown in an unfathomable mush of sound.
Tame audience
The excellent band and its predecessor cannot be blamed. Springsteen, as usual, works up a sweat to win over his audience. That will cost him a lot of effort this evening. The stadium is quite tame and difficult to get moving, even for someone who is unsurpassed in interacting with the public. The American once again proves himself a master in reaching all rows in the arena in Amsterdam, nevertheless it takes two hours before the people in the stands also loosen up.
The last hour is propped up by hits and crowd favorites, which Springsteen and his extensive band (many wind players and backing singers) pour out over their audiences seemingly carelessly. Badlands, Born in the USA, Born to run, Dancing in the dark and Glory Days bring nothing short of euphoria to the stadium, which is treated to one of the two longest European shows on this tour.
At 73, Springsteen still shows little wear and tear, which is partly due to smart choices. He does not compromise on interaction with his audience, but does make a lot less effort than before on an athletic level.
Harmonica
He is an audience player pur sang, who winds the stadium around his finger, by, among other things, twice giving up his harmonica to a young woman in the audience and giving a plectrum to a boy of about ten years old. In his mimicry, well conveyed on the large video screens, the seventy-year-old at times shows himself to be a young dog. A mischievous look, mischievous, almost playful. At other times he diligently conducts his band, or – just as easily – his audience.
The most special thing is that Springsteen, unlike most of his colleagues, does it completely on his own; without laser show, fireworks or special effects. Springsteen is an endangered live phenomenon in that regard. The good news: that phenomenon will return twice in the Netherlands; Saturday in the Arena and on June 11 in Landgraaf.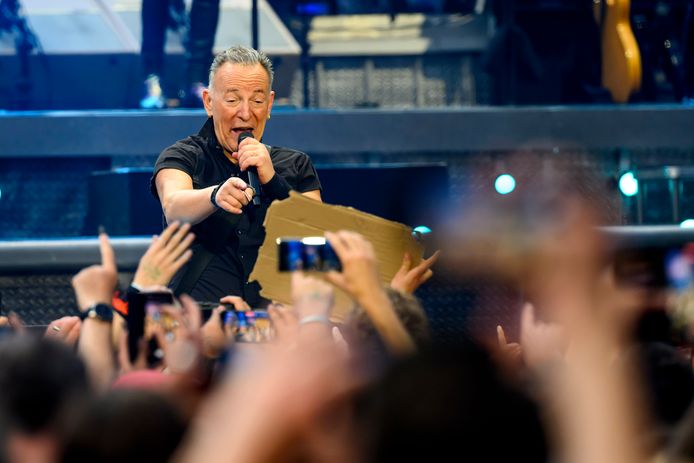 View our Show & Entertainment videos below.
Free unlimited access to Showbytes? Which can!
Log in or create an account and don't miss a thing of the stars.

Yes, I want free unlimited access
#Bruce #Springsteen #presents #live #phenomenon #danger #extinction