Inflation and impoverishment in the United Kingdom are so rampant that supermarkets are sticking security stickers on items such as washing powder and meat to prevent shoplifting.
A security guard behind the unmanned cash registers, broad-shouldered colleagues at the entrance, a shop assistant behind a screen with images from a dozen cameras and magnetic stickers on steaks, bacon and liquid detergent. Supermarkets in the UK are doing everything they can to stop the rise in theft. Due to the continuing inflation, the British are increasingly choosing to steal food.
Concerns such as Aldi and M&S speak of local measures, not of a national trend. Practice does indeed point to a tightening of controls at national level. Before the pandemic, guards hung around the collection point of the baskets, now they walk through aisles behind customers in a targeted manner. Security stickers are now even on cans of instant coffee.
Pay much more
Food prices in the United Kingdom rose by 19.1 percent in the past year. Ex-Prime Minister Liz Truss and her finance minister made the situation even worse. Due to its economic mismanagement, mortgage interest rates exploded. Partly due to a change in the law, tenants had to pay much more. And the war in Ukraine sent energy costs skyrocketing.
This supermarket uses an 'intelligent' surveillance system that uses AI to watch customers (video):
Poverty increased sharply after the banking crisis in 2008. The government stripped down social services during heavy cuts. Waiting lists for psychiatric care and rehab grew exponentially, increasing the number of addicted homeless people on Britain's streets. Food banks and foundations such as Shelter tried with art and flying to keep the masses afloat.
Stealing and violence
In no other Northern European country is theft so rampant; a doubling in six years. "Nowhere do I see stealing and violence against employees as prominent as here," Tracey Clements, head of the supermarket branch of oil giant BP, said during a conference. Incidents at sites in the Netherlands, Sweden and Germany lagged far behind those in the United Kingdom.
Clements thus contradicts the conclusions of the British Retail Consortium (BRM), an umbrella body of smaller and larger supermarkets. According to them, the increase of up to 75 percent in twelve months is due to junkies and alcoholics. Off the record shopkeepers tell a different story, as in The Guardian. The newspaper outlined the shift during a recent tour of a hipster neighborhood in Manchester.
The addicts and drunkards, whose pictures hang on the wall as a warning, have been joined by 'regular customers'. With shame on their cheeks, those cheese and meat hide under their coats because they can no longer afford their groceries. This also comes to the fore at the drugstore Boots. Lipstick, eye pencil and make-up are more often taken off the shelves. Staff will only collect it from the warehouse upon request.
impoverishment
In 2022, stores reported 8 million thefts. Experts estimate the costs at more than 1 billion euros. The actual number is almost certainly many times higher. Estimates assume only 4 percent are reported. According to trade unions, the police are not intervening. As long as the stolen goods remain under £200, justice would not act. The massive reduction in prosecutions – from 80,000 to 20,000 in a decade – reinforces this picture.
Supermarkets and local shops are therefore taking matters into their own hands. Umbrella organization BRM, probably not to deter their clientele, should not label inflation as the culprit, the hard reality is different. The United Kingdom bears characteristics of author Charles Dickens' descriptions of the impoverishment of England in the 19th century. Bread, milk and butter ganked out of necessity, popping up everywhere.
Food costs the average Briton 1000 euros more every year than before. This development is persuading more and more people to take products with them without paying. The ragged bums can stop the security guards with their eyes closed. The cameras, watching the checkout and the yellow stickers are for the inconspicuous thieves, citizens who can no longer afford it.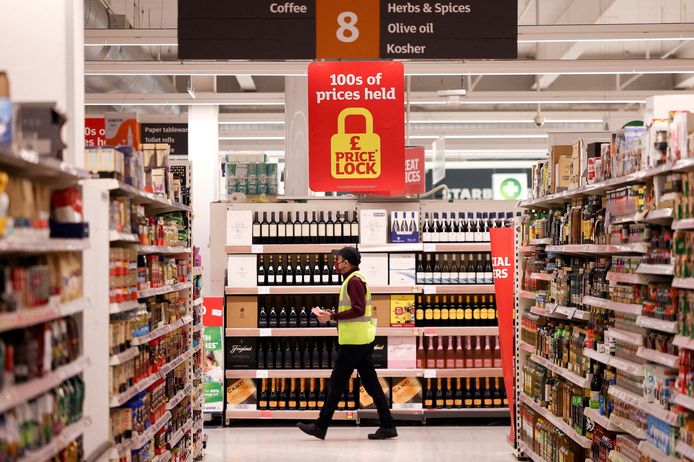 Comment can be found at the bottom of this article. Only comments with a full name are placed. We do that because we want a debate with people who stand for what they say, and therefore put their name to it. Those who still need to enter their name can do so by clicking 'Login' at the top right of our site.
Check out our most viewed news videos in the playlist below:
Free unlimited access to Showbytes? Which can!
Log in or create an account and don't miss a thing of the stars.

Yes, I want free unlimited access
#British #supermarkets #mistrust #impoverished #customers #cheese #bacon #paracetamol #instant #coffee #secured