It was 1970 when the composer and musician Gustavo Mendez He meets businessman Rómulo Mariños, who told him that his group called Fuego had disintegrated and had musical equipment and instruments that he could use and proposed organizing a new musical group.
Gustavo Méndez responded that he had scheduled a trip to the USAbut the businessman insisted that he think about it and, in the short time that he was going to be in Trujillo, consider the idea of ​​directing the group until his departure.
The Harmony 4 group today. Photo: courtesy.
"I matured the idea and called the two members of the Fuego group, which had disintegrated, Víctor Novoa and Walter Alcalde, then I called a schoolmate, Antonio Arteaga, to propose the project of the new group"he recalled.
"The idea was to do something different from other groups, that has other sounds, we thought about the name and it was unanimously chosen. Harmony 4then rehearsals began and the project got underway," he commented.
The style of music they played was pop ballads, balads in Spanish, and the best of rock was Santana covers.
Gustavo Méndez pointed out that the group began to become known and contracts came to play in concerts in venues in Trujillo, in those 70s, such as Club Tell, Los FirefightersUniversity Casino, Faculty of Letters, among others.
He narrated that in Peru, with Armonía 4, toured the cities, the entire northern jungle, northern coast and northern mountains, bringing their music to their followers. They recorded several albums such as: 'Cariñosa', 'I only love you', 'Si te vas adiós', 'Tell me that you will come' and 'A love song'.
"We played for several years, every month, we were very busy. Too much work is exhausting and I thought about continuing to advance in my work as a musician, since Trujillo I did not have modern machinery, recording rooms to continue advancing, that is why I decided to travel to the United States," he added.
"I realized that Armonía 4 had already met its goal and decided to disintegrate the group, we started selling our equipment and instruments. On the way, Víctor Castillo from Los Pasteles Verdes appeared. Chimbote and he convinced me to go to Mexico and then we entered the United States. I lived for 17 years in Mexico and today I lived in the United States," says Gustavo Méndez.
The first to leave Peru USA It was Antonio Arteaga, who did it in 1975, then Víctor Novoa in 1976 and Gustavo Méndez in 1977, who arrived in Mexico and then in the United States. The only one who did not travel abroad was Walter Alcalde, because he was married and already had a family to work for.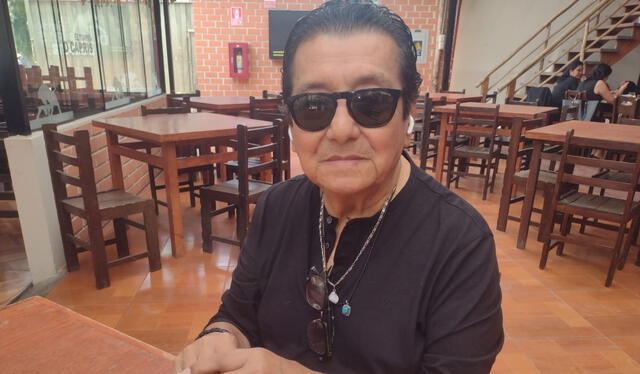 Gustavo Méndez told the story of Armonía 4. Photo: courtesy
Currently in the United States, Antonio Arteaga plays drums with various orchestras, Gustavo Mendez He continues to give concerts with the Pastels Verdes and Víctor Novoa has a particular job.
The composer Méndez said that last year he came to Trujillo and people asked him if they were going to play; For this reason, the idea of ​​bringing together the members of Armonía 4 and giving a concert began to mature. "I talked to them and the date came to play at a reunion and then return to our places, where we live," he added.
"We want to say goodbye to our followers that we had in the 70s, because Harmony 4 "He disappeared without saying goodbye to his audience and now we are going to give a concert to finish the cycle that we started more than 50 years ago," he said.
When and where will the Armonía 4 concert be in Trujillo?
The concert of the group Armonía 4 will be on Saturday, November 25 at the El Estribo venue in Trujillo. The group The Stranger's and Danny De los Ríos, "El Ángel del Rock", from Iquitos will also perform.
#Harmony #Harmony #story