EL PAÍS offers the América Futura section open for its daily and global informative contribution on sustainable development. If you want to support our journalism, subscribe here.
The building is in the heart of San Miguel de Tucumán, the city located in the northwest of Argentina. Next to the Hacer Futuro Foundation offices, there is a room full of boxes. Each one with labels that say: "To fix", "To deliver", "Metal". "Plastic". There are sunny, modern and old, but in good condition. Dozens of cases and some mirrors. This multicolored landscape of lenses and frames of great variety, which await their new owners, produces some concern.
The Banco de Anteojos works there, a socio-environmental initiative that was born seven years ago as part of the activities of a foundation focused on social equity, education, job training and the environment. The project seeks to take advantage of obsolete glasses and make them functional for people who cannot access them for economic reasons. In Argentina, almost 900,000 people have some degree of visual impairment, according to the latest official data from 2018.
The idea was, like many others, the daughter of chance. "In one of the jobs with a public school, of which we were sponsors, they asked us for shoes, computers, aprons and glasses for the boys. We bought them a few times, but then he didn't give us the budget because we are a small foundation. That's when we started thinking about what we could do. It occurred to me to manufacture them in 3D and I spoke with engineers from the National Technological University. Until the light bulb went on," says Enrique Bach, president of the Fundación Hacer Futuro, which runs the Banco de Anteojos.
"What happens if we recycle them?" they wondered. They put together two boxes of unused glasses and solved the problem for the school that had placed the order. Bach and his team thought the task was done, but another request arose in Amaicha del Valle, an indigenous community in the middle of the Calchaquí valleys, located 170 kilometers from San Miguel de Tucumán.
As the place is remote and only primary health care reaches there, they arrived with some boxes of glasses and an ophthalmologist. Some 200 people with different problems related to vision gathered, something frequent not only due to lack of attention but also due to the solar radiation of the place located at 2,200 meters above sea level.
"There we thought there was a need to cover. I started to build bridges with lens factories and some brands that donated pairs with a small paint defect. Thus we put together about 250 pairs; the project grew and began to spread throughout the country. This generated an impressive amount of donations mainly from individuals and also from companies, educational institutions and churches, which carry out collection campaigns", added Bach.
After receiving the donations, the first step of the employees and volunteers of the foundation is to classify the glasses; they check if they are healthy, the type of material, if they are for adults or children… To request a pair from the foundation, the institution asks for some requirements.
"It is an eco-social project. We aim at people who do not have a social security project —in Argentina, these usually cover the manufacture of glasses— or a job. People who need them must present a certification from the National Social Security Administration (ANSES). We make an exception with PAMI (the social work for retirees and pensioners) because older adults usually get only one pair every two years. In that time, they may lose or break them. And they can't wait that long."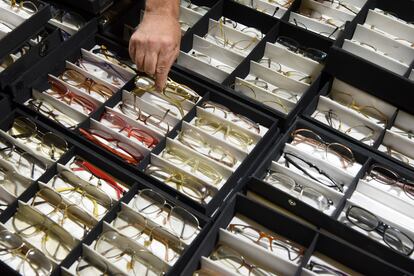 The exception also includes people with disabilities and other pathologies. Then, people take a turn to visit the foundation, which they arrive with the medical prescription. There they choose the frame they like best to have their glasses made.
"A few minutes later they leave with the solution. After choosing the frames, we send them to an optician with whom we work together with the graduation details. After a few days, the glasses are delivered to them and they sign a registry book so that the people who contributed know the destination of their donation", he narrates.
The project, which makes about 200 lenses per month, is mainly financed by donations and thanks to the support of some companies. The foundation asks for a symbolic payment of 1,500 Argentine pesos (about four dollars) for each pair and only to those who can afford it. That price is about 5% of what low prescription lenses cost on the market. The operation of the Banco de Anteojos is possible thanks to a network of alliances that is becoming more solid every day.
Some time ago, they closed an agreement with a transport company, which allows donations to be sent free of charge from anywhere in the country to Tucumán. They also opened fixed reception points in Salta, Jujuy and the city of Buenos Aires. And they're starting to also settle in Spain.
Francisco Pineda is the manager of development and production at Óptica Solmar, which is in charge of making the lenses for the project. In addition to the social role of Banco de Anteojos, the importance of giving a "second chance" to difficult-to-recycle materials that would otherwise end up in a landfill was highlighted.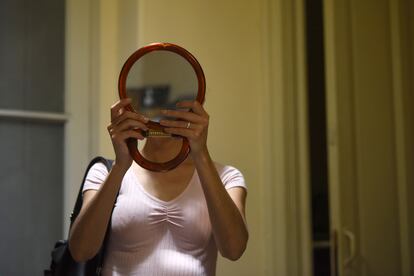 "Sometimes we do not measure the importance of vision, which connects with the development of a person. Without a good vision, we cannot study or develop a trade or a profession. It is our grain of sand to promote this development", said Pineda.
The campaigns with medical teams outside the city of San Miguel de Tucumán, the capital of the province, are one of the great contributions of the project, in addition to the manufacture of the lenses. In many cases, it means the first contact with an eye specialist; On occasions, it is used to detect eye diseases and refer them to hospitals in the province.
"We do ocular refraction studies and see what graduation patients need. In many cases, we prescribe the making of glasses. But there are others that are not resolved with lenses and that is where ocular pathologies appear, such as high ocular pressure, glaucoma, cataracts, diabetic retinopathy and others that require referrals. The project goes to places where the doctor often does not arrive", said Daiana Selman Ponce, an ophthalmologist, head of residence at the Padilla Hospital in Tucumán and a participant in some of the foundation's campaigns.
On a hot noon in the city, Bach shows the hundreds of frames waiting for their owners. He says that at the foundation they can choose the one they like the most and that they also give cases. In a few days, it will be a shift day and in others there will be a campaign in Banda del Río Salí, one of the poorest outskirts of Greater San Miguel de Tucumán.
Remember a girl who a year ago did not go to school because she did not have glasses. And he talks about another child with aniridia (partial or total absence of the iris), who had special glasses "closed like goggles". Bach looks at the multicolored landscape of lenses and frames and ends with a pride that he cannot hide. "It is easy to think about the final destination of a cardboard box, but the same was not the case with the glasses. We found a solution to something that didn't have it. We reuse them and the project has a social impact because it reaches those who could not afford it. It changed the lives of many people who could not work or study. We say that they are not just glasses: there is a life story behind each pair that we deliver".
#Bank #Eyeglasses #life #glasses #opportunity #buy