,,We scored five goals and also showed wonderful attacks", Arne Slot looked back on Feyenoord's 5-0 victory over Elfsborg in the Conference League play-offs. ,,My players put so much energy into the game. And if we lost the ball for a moment, we would have it right back. We were very dominant."
,,It was really fun", Slot said with a laugh. ,,That has actually been the case for weeks. And hopefully we will play such a match again next week. That intention will be there again, but that does not mean that it will work. ."
Luis Sinisterra was the star at Feyenoord, with three goals. "He is getting fitter," said the Feyenoord coach. ,,I compare it a bit with Calvin Stengs. He also came back from a serious injury at AZ. It took some time and he became good and even very good. But an individual can only excel if the whole team plays well. And we did. Smetje was that red card for Justin Bijlow in the final phase. He didn't do much but he also gave rise to that red card."
Jens Toornstra was a satisfied captain after Feyenoord's big win. "We are in the group stage with one foot," he acknowledged. "If we play like this again next week, we won't give this away anymore."






Only the last fifteen minutes did the concentration weaken a bit. You can blame us.

Jens Toornstra
Feyenoord ended with ten men. Goalkeeper Justin Bijlow could have let attacker Marokhy Ndione run better when he was nearly outplayed in the 81st minute with a 5-0 lead. ,,That red card was a blemish,' said Toornstra. "But all in all, we did very well."
,,We put a lot of energy into this match", said Toornstra. ,,Only in the last fifteen minutes the concentration slackened a bit. You can blame us for that."
Striker Bryan Linssen was not completely satisfied after the game. ,,It was certainly a beautiful evening, but it could have been even better", said the maker of the 5-0. ,,After the 3-0 in the first half, we really wanted to continue and finish it right in one game with the 6-0 and the 7-0."
,,From the moment Elfsborg came in with ten men, we should have looked for more goals," said Linssen. ,,But the pace was too slow and then we get a red card ourselves, which is just a shame. a shame we have to miss Justin next week."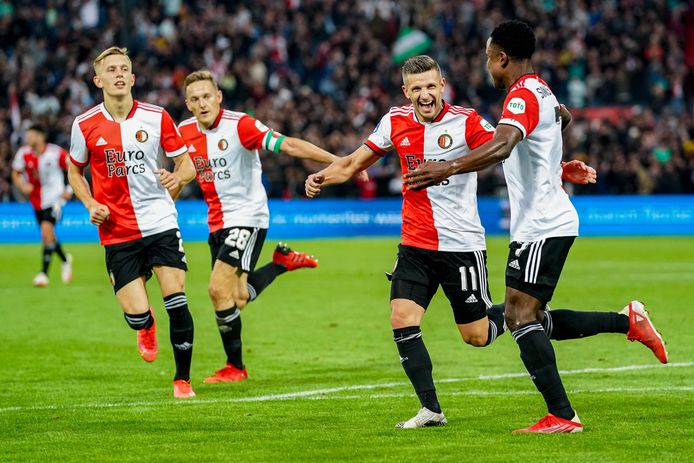 Linssen is confidently looking forward to the return: ,,We enjoy the way we play football now, we stir each other up and that won't be all different next week."
After his hit, the attacker performed a dance and he also saw points for improvement. ,,I'm not going to do that dance the whole season, but at 5-0 I thought it was a good moment. But I was not feeling well, my rhythm was not good," said Linssen, who was allowed to report for the doping test.
Free unlimited access to Showbytes? Which can!
Log in or create an account and never miss a thing from the stars.

Yes, I want free unlimited access