Whether you suffer from gallstones, need to have a wisdom tooth pulled or have your lips sprayed: appropriate care is never far away in the Mexican border town of Piedras Negras. In the first blocks after the international bridge to Eagle Pass, Texas, medical experts everywhere are also pricing their cheap services among the cheap shoe stores, money exchanges and bars. Opticians ("Your Glasses in One Hour"), many dentists ("Good Health Starts in Your Mouth"), pharmacies (Viagra without a prescription) and a few private hospitals.
But no abortion clinics. Hopes arose this year when the so-called 'heart rate law' came into effect in Texas on September 1. Since then, women in that state have been unable to legally terminate a pregnancy. Less than a week after the implementation of that draconian law, Mexico went in exactly the opposite direction.
The Supreme Court of the southern neighboring country ruled on September 7 that abortion should be removed as an offence. And not only that: the ten high judges unanimously determined that free abortion should be legally guaranteed after this decriminalization.
Situation has become more difficult
Mexico lifts abortion ban as Texas embraces it wrote the Texan newspaper Dallas News. It's now easier to get an abortion in Mexico than in Texas, web magazine reported Vice. Irony Warning: It May Soon Be Safer to Have Abortions in Mexico Than Texas a column in the regional Arizona Republic.
So far it is not going that fast. "Our situation has actually become more difficult," says Alma Torres in a coffee shop in Piedras Negras. The Mexican psychologist is a so-called companion, an activist who assists women and girls in finding a solution to their unwanted pregnancy. "Previously, some Mexican women could still go to San Antonio [in Texas] before an operation. But now that way out is no longer there and nothing has been arranged on our side of the border."
Also read: Court forces conservative Mexico to legalize abortion

Informal networks of acompañates exist throughout Mexico. These volunteers help other women find their way to the few abortion clinics in the four states where abortion was legal before the court ruling. Even more often, they help to get misoprostol, a medicine for stomach ulcers that has the side effect that it can induce an abortion. It is available over the counter in some—but not all—Mexican pharmacies.
provoke miscarriage
Alma Torres has not yet found a pharmacy in Piedras Negras that sells it freely. "I sometimes find a box on the black market or on Mercadolibre" [een soort Marktplaats.nl, red.]. But then it is a few times more expensive than in the pharmacy." For new supplies, she always has to go to the state capital of Saltillo, a five-hour drive away.
If that doesn't work, she advises you to try rue tea first. This is an age-old and risky way to provoke a miscarriage. "It is available on every market and if you drink liters of it, you will start to bleed. In the hospital you have to say that this happened spontaneously."
Access to safe, legal abortion in Piedras Negras is therefore just as scarce as it was before the historic verdict. And that while the border town is in Coahuila, the northern state on which the Mexican court ruled in September. The senior judges found the article in the Coahuila penal code, which imposed a maximum sentence of three years for abortion, as unconstitutional. That ruling immediately applied to all other states of the country. She can be compared to Roe v. Wade, the verdict that in the US since 1973 upholds the constitutional right to abortion up to the 24th week – for as long as that lasts.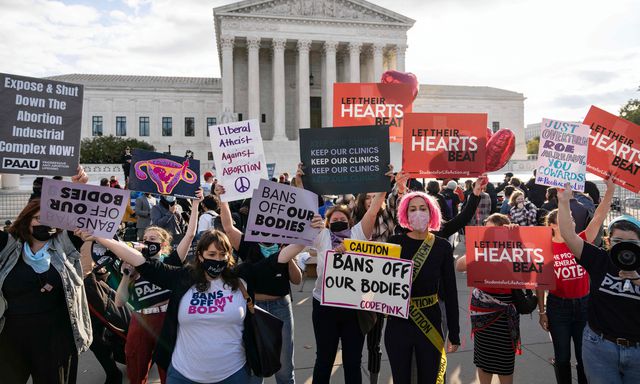 Also read: Abortion is big test for conservative US Supreme Court

green handkerchiefs
"We should be grateful to our representatives for sloppy drafting of the ban in Coahuila, because it allowed the court to make mincemeat," said women's rights activist and columnist Cynthia Mancado at a cafe in Saltillo. She leads, among other things, Matatena, an aid organization that assists teenage mothers. "Girls who sometimes gave birth to a child that they would not have had if abortion had been legal."
Moncada has tied a green handkerchief on both her wrist and handbag: a feminist talisman that came over from Argentina. Pro-choice activists did not bind white panuelo to like the Foolish Mothers, but a green one. With success: Pope Francis' homeland legalized free abortion at the end of 2020.
Moncada had not expected Mexico to follow so soon: "The verdict was so balanced and nuanced that it surprised us." This progressiveness was apparent, among other things, from the politically correct use of language. For example, the judges spoke very contemporary of "pregnant women and persons" because people who do not identify as women could also be pregnant.
The high court who forced the verdict also referred to the 'green wave' that has spread across the country in recent years. And which, Moncada says, is also swelling in Coahuila. A MeTooprotests over sexist teachers at the local university, some infamous femicides and the abortion case before the Court sparked new feminist momentum in the state. "On International Women's Day 2020, we were hundreds of protesters. Previously there were at most thirty."
Reverse abortion bans
The judges are making it very clear what states and the federal government must do to regulate legalization. Still, Moncada says: "We celebrate, but then again we don't." After the Court's ruling, states must reverse their abortion bans and this has happened in Baja California and Colima since, but elsewhere conservative state parliaments and governments are in little haste. Let alone opening free and legal abortion clinics.
In Coahuila, only the public hospital in Saltillo would allow abortions, the state reported a day after the verdict. They were already there in case of rape or a risky pregnancy. It is unclear whether this has now been extended to abortions on request. Moncada and other women's rights activists have yet to hear a single case. Local professional guilds of gynecologists have spoken out against more options for women. They invoke their right to conscientious objection, although the court has stated that this is subordinate to the woman's right to self-determination.
Although Mexican women no longer have to fear persecution if they terminate a pregnancy (or have it terminated), this is still just as difficult in many places in the country as before. Women's rights activists also note that the pro-vida movement, as the opponents of abortion refer to themselves, has also become more active and outspoken.
"We really need to have legalization arranged by next year," said Claudia Ramírez, a left-wing state parliamentarian. "And certainly before 2024 if there are presidential elections. We know how well the right can handle this theme."
peptic ulcer drug
In Piedras Negras you can find gynecologists and an ultrasound office for Texas women, a small building with a pink facade with a side section of a pregnant woman painted on it. At the pharmacy down the street, an advertising box dangles above the counter, promoting sildenafil: the generic version of the erection pill Viagra. Freely available. But no misoprostol without a prescription.
Even so, the acompañates in Piedras Negras and Saltillo are preparing for more Texan women to sign up in the coming years. "We are further ahead with abortion drugs than they are. There aren't that many support networks in Texas either," said Mixely, of activist group Saltilllo Decide. "Maybe because we Mexicans are more collectivistic and they are more individual?"
The Red Aborto Seguro Saltillo, a network that helps hundreds of women every year, is also ready to assist Texas women, says member Metzly. There is already contact with groups on the 'other side', explains the young woman.
But she also points to a risk. The network suspects the state government will soon be able to open private clinics in border towns such as Ciudad Acuña and Piedras Negras, aimed at profitable medical tourism for Texas women. "While this can best be arranged in public hospitals. Using this to boost tourism is one way to put women's rights last again."
In addition, her network is able to help by far the majority of women in need with misoprostol. "That is usually a much better option than going to a clinic." The pills have an abortifacient effect well into the pregnancy, while abortion is also legal in states without a ban until the 15th week. Her network is in contact with a socially involved local pharmacy that supplies the drug, but it is less widely available outside the capital.
This is also the experience of Maria Elena Collado, who trains pharmacists in Mexico in dispensing misoprostol for the international 'pro-choice' organization IPAS. Even in Oaxaca, a poor southern state that legalized abortion in 2019, the drug is available in only half of the pharmacies. "And that while it is desperately needed. The only two legal clinics are in the state capital. It is hours of travel for women and girls from the countryside," she says via video link from Mexico City.
Stigma on abortion continues
In principle, the drug is freely available to pharmacists. The problem is that many large chains are against it and that pharmacists in Mexico do not have to have pharmaceutical training. It leads to a combination of unwillingness and ignorance. "Sometimes it is considered a heavier drug because of its side effects and therefore not sold freely. Others refuse on principle."
As a result, it is available in one pharmacy and not another. Or that older men get it easily, but young women don't. NRC did a small sample of ten pharmacies in Coahuila. Nine told the (male) reporter to sell the drug, two also without a prescription. Among them even a branch of the Guadalajara chain, which openly provida is, does not have a morning-after pill in its range and has its logo based on the cathedral of the city of the same name.
"They probably only gave it to you because you're a man, and European too," says acompañate Metzly cynically. That the availability of the drug continues to fluctuate, perpetuates the stigma on abortion. "If you're in this situation, you don't want to have to go to multiple pharmacies. It leads to insecurity among women who already have a difficult choice to make."
#Abortion #Virtually #Impossible #Texas #Mexican #Feminists #Helping