In October, Josh Wardle, a software engineer from Brooklyn, released wordle. This game, which consists of guessing a hidden five-letter word, has hooked millions of users in just a few months and has filled Twitter with grey, yellow and green squares. But it has a big drawback which, in turn, is probably one of the keys to its success: it can only be played once a day. For those who dedicate a few minutes of their time is not enough, there are many other games that also accumulate thousands of users.
wordle in other languages
Wordle is not only available in Spanish. In fact, the official version created by Wardle is The English. Following its success, the pastime has been adapted into many languages. For example, it can be played in other languages ​​spoken in Spain such as the Catalan, the Galician or the Euskera. And for those who know or want to learn other languages ​​too, there is plenty to choose from: from English to Japanesegoing through the Italianthe Germanthe Portuguesethe Chinese or the French.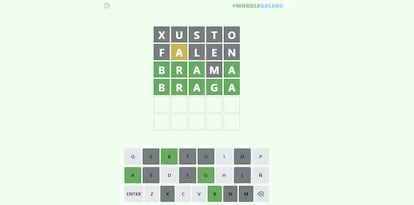 If this game is too easy for you and you speak English, an interesting option is absurd. Its creators define it as the "contradictory version" of Wordle. The goal is the same: to guess a five-letter word, but in this case, the system does not want the user to win under any circumstances, so it changes the word in question so that it fails as much as possible.
"Wordle chooses a single secret word at the beginning of the game and then you have to guess it. Absurdle gives the impression of choosing a single secret word, but what he actually does is consider the entire list of all possible secret words that fit your guesses so far", says its creator. Unlike what happens in Wordle, in this pastime the attempts are infinite. The best possible score is four attempts: "And, yes, it has been obtained by many different people."
For math lovers
There is also a variant suitable for those users who prefer numbers to letters. Nerdle is a game inspired by Wordle which consists of guessing a mathematical operation in six attempts. This time there are eight holes to fill in with numbers —from 0 to 9— and symbols —addition, subtraction, multiplication and division—. If in Wordle you have to find out a word from the dictionary, in Nerdle you have to enter a correct mathematical operation.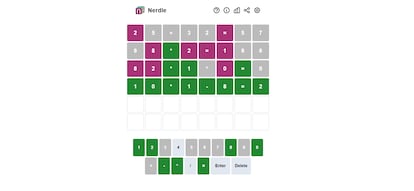 The color of the boxes indicates if the numbers are present and well placed. The website also has a mode for colorblind people. Once the mystery is solved, it is also possible to share the results. If this game is a bit complicated at first, there is a somewhat simpler option: just click on settings and click on mini Nerdle. By doing so, the puzzle becomes six columns instead of eight.
The game with colors for those nostalgic for Mastermind
Wordle will have reminded many people of Mastermind, a board game for two people launched in the 1970s and whose purpose is to guess a sequence of four colors. After each attempt, the user is told how many colors they have positioned correctly and how many are present in the combination, but not in their proper place. As in Wordle, in this case there is a limited number of attempts. Nowadays it is possible to play this pastime online or through mobile applications.
This game also inspired other versions; is the case of applications Electronic Master Mind or guess the key. Instead of guessing color combinations, both alternatives consist of guessing a numerical code. For example, in the case of Guess the password, the combination can be between four and eight figures depending on the level selected. The application indicates with a green tick how many numbers are placed in the correct position and with a yellow exclamation how many are part of the secret code, but are wrongly placed.
make your own wordle
There are endless alternatives to Wordle: of the applications designed to guess a word from several images to more classic ones like Hangmanthe Letter soup or the scrabble. But if all these options fall short, everyone can create their own game. Some websites allow choose a word and share the pastime with friendsalthough it can also be done in a much more rudimentary way: just look for a friend, take paper, a pen and some green and yellow highlighters, and draw the table and the letters.
In the confinement of 2020, my mother and I were already playing wordle. We called it "little words" and it was much more difficult because we didn't indicate which letter was correct. I feel like the whole internet has suddenly stolen something from me. pic.twitter.com/6ZZbl8MoWl

– Macarena Gil de la Puerta (@GildelaM) February 2, 2022
Perhaps by playing new versions will emerge. In fact, before Wordle existed, some users had already devised similar hobbies. "In the lockdown of 2020, my mother and I were already playing Wordle. We called it 'little words' and it was much more difficult because we didn't indicate which letter was correct, "she explains on Twitter Macarena Gil de la Puerta, professor of linguistics and creator of the podcast with the tongue out. In his game, only emojis of two colors are used: white – to indicate that some letters are in the word, but poorly placed – and black – when there are letters that are well placed.
You can follow EL PAÍS TECNOLOGÍA at Facebook Y Twitter or sign up here to receive our Weekly Newsletter..

#dozen #games #similar #Wordle #solved #word #day